Coronavirus weddings zijn elke koppels grootste nachtmerrie. De trouwbranche is ook flink geraakt. Door corona zijn veel huwelijksvoltrekkingen verschoven en besluiten koppels om het intieme te houden. Lijkt het je handiger om in 2022 te trouwen?
Ben je bang voor een derde golf? Wat vind je van deze gekke coronatijd? En herken je dit verhaal? Stel je voor de broertje van je vriend gaat trouwen ergens op een toplocatie in Nederland. Maar hij en zijn zijn verloofde hebben het door corona ontzettend zwaar gehad.
Het koppel zouden in mei al gaan trouwen, maar vanwege de coronapiek mocht dat niet door gaan. En nog iets..nu heeft er al 2 keer een toplocatie op de veluwe van ze afgezegd en vorige week, een week voor hun bruiloft, cancelde ook de laatste locatie.
Herken je dit? Het echtpaar hebben nu 150 gasten moeten afzeggen van hun bruiloft, omdat er geen trouwlocatie meer is die een grote groep aanneemt.
Coronavirus weddings – BREAKING NEWS

protocol & voorzorgsmaatregelen
Gedeeltelijke lockdown maatregelen duurt minstens tot 9 Februari 2021. Dik drie weken moeten we 'terug in het hok', melden bronnen. Dan volgt een evaluatie en wordt bekeken welke maatregelen dan nog nodig zijn. Bron: www.gelderlander.nl
image JoThornhillPhotography
Raak niet in paniek – Coronavirus weddings
Firstly, what is coronavirus (COVID-19)? According to www.who.int it's a large family of viruses. The illnesses range from the common cold to more severe diseases such as (MERS-CoV) and (SARS-CoV). But, hope is insight to combat it, many countries around the world are working on a vaccine, cure and remedy.
Rebook Covid-secure wedding venue 2022
So, how do you have a great, socially-distanced wedding abroad, despite the pandemic and restricted travel? It's impacted our big plans overseas. Together with that we are self-isolating, and in solitary confinement so as to contain the spread of infection.
Uitgestelde trouwfeest – volg de live blog

Wil je je trouwdag verplaatsen? With the above in mind the majority of the world is self-isolating, alone and in solitary confinement. This is to contain the spread of infection. So, would you consider a winter wedding: October to December? Volg de live blog over Covid-19 weddings.
Blijf goed voor jezelf zorgen – coronavirus weddings top tip!

In addition with travel restricted and a limitation on social interaction. Self-isolating to contain the spread of infection maybe affecting your mental and physical health. So, don't let it beat you down. Self-care is an essential part of your life. And even more so take the  opportunity to get out of the rat race for a while and rest.
Flexible zijn met Tom's wedding planning spreadsheet
Do you feel bored, lonely and uncertain about your future? Have you postponed or rescheduled? Well, Covid-19 gives you the time to readdress your budget and prepare for your upcoming celebrations. Keep yourself entertained with Tom's wedding planning checklist template.
Vraag hulp i.v.m coronaproof trouwen

Many celebrants are worried about your wedding ceremony celebrations. So, seek guidance about amended the date. Actually, world wide celebrants are no longer physically seeing clients face-to-face. However, we have embraced online wedding blessings and other forms of video-chat.
Neem contact op met weddingplanner!

Your wedding planner/venue has bookings for popular dates in 2022 wedding season. So, be flexible in finding an alternative date. Suppliers are quite within their rights to charge a supplement if you decide on a expensive "peak" date.  Remember you probably don't have the "right" to postpone without penalties. So, find a compromise.
Informeer over bruiloftverzekering –  wedding insurance

Coronavirus is a dangerous contagious viral disease. And we know weddings are a vital part of society. However, your guests are vulnerable to spread the virus. Wedding bans for  [100 persons and more] are still in place. Have you cancelled and paid in full? Well, the deposit paid may be affected. Check coverage  www.aonverzekeringen.nl
Vergeet je trouwjurk niet

So, you've still got the bridal gown in your closet ready to go, right? Be patient and think about planning a multiple celebration. Since Covid-19 entered our lives, there has been a spike in "One Couple, Two Weddings: Multiple Celebrations". Call it split, your wedding can be celebrated numerous times.
Blijf kalm – reisverbod

Furthermore, COVID-19 has hit honeymoon, wedding travel season and other anniversary celebration arrangements in Holland. And the Dutch Health Authorities want you to self-quarantine for 10 days. What does this mean? If you are travelling to Holland, with your wedding guests everyone must self-isolate in one place for ten days, upon arrival.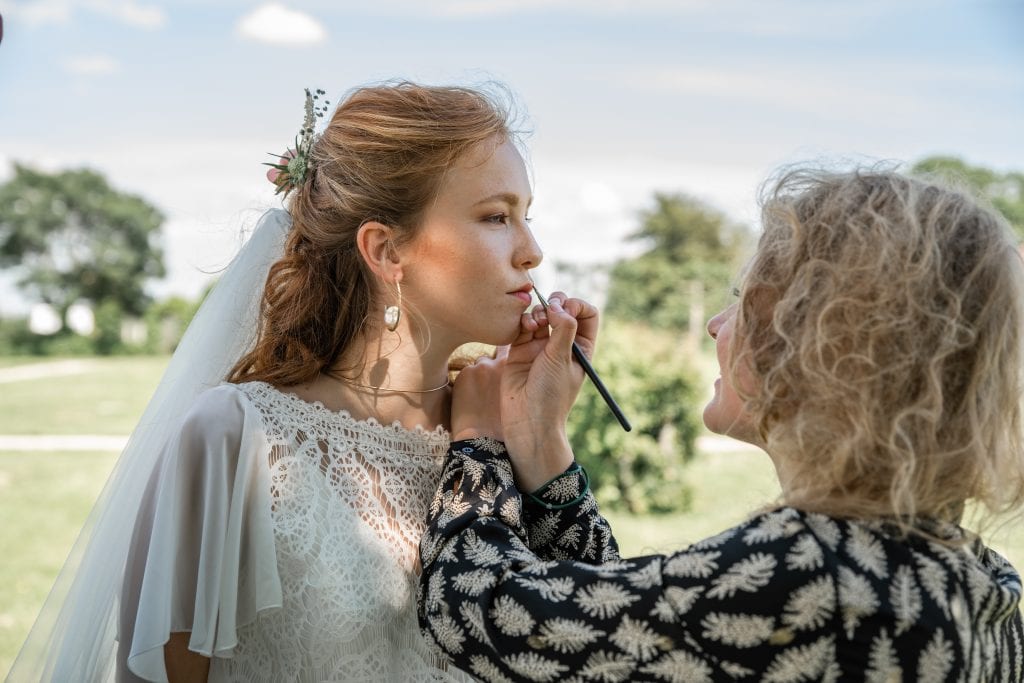 image Lisanne kooij
Ramped up highest alert – coronavirus  | BREAKING NEWS!
"UK Prime Minister Boris Johnson is ramping up the seriousness of the coronavirus. "It's the government's "top priority". Actually, with the number of cases set to rise, NHS England says it is scaling up its capacity for testing people for the infection". This is to curb the spread. www.bbc.com
Afstand houden tot 2 meter – social distancing

Most governments have implemented a safety measure to reduce the spread and transmission of COVID-19. In truth social distancing is now part of every day life. Socialising in public places has been temporarily banned. Along with travelling on public transport and remotely working from home it has become the norm. Plus standing or sitting 1.5 – 2 meters apart is common place. publichealthmatters.blog.gov.uk
Blijf optimitisch – fasionable masked & online weddings

Do you still want to go ahead with your plans? Well, you can have a coronaproof wedding. Perhaps you want your guest to wear masks throughout the ceremony. But, neither of these options sound personable. So, opt for a virtual wedding celebration for two, with witnesses and the officiant. Online weddings and masked marriages can save your relationship.
Plan een bruiloft minimony met of zonder daggasten

Wees lief voor elkaar – coronavirus weddings ban
76 gasten besmet na huwelijksfeest in Frankrijk: "Was in openlucht en coronamaatregelen werden goed opgevolgd"Na een huwelijksfeest in de buurt van de Franse stad Le Mans hebben 76 gasten positief getest op het coronavirus. Op het huwelijk waren 250 genodigden aanwezig. Of ook de bruid en/of de bruidegom besmet zijn, is niet bekend. Bron: www.hbvl.be
Bruiloft uistellen – coronavirus ceremony rules & regulations
Many celebrants are worried about your wedding ceremony celebrations. So, seek guidance about amended the date. In fact, world wide celebrants are no longer physically seeing clients face-to-face. However, we have embraced online wedding blessings and other forms of video-chat.
Hou je gasten op de hoogte – www.travelguard.com
Travelguard.com advise, "If you are considering cancelling your trip due to the Coronavirus, please keep your wedding guests in the loop. Better still read your travel insurance policy thoroughly. So, contact them today about your destination wedding celebrations. www.travelguard.com
Update website about coronavirus weddings

So, have you created a website to announce your wedding? With all the free time on your hands, make sure you keep it updated. The wedding website, "can be mass-shared live with family and friends. In fact, use it to give advice or guidance about travel, health and other safety measures".www.standard.co.uk
Stap uit je comfort zone – elopement weddings

And there's more.."Coronavirus and weddings: can you tie the knot safely? Well, you might like an impromptu ceremony like an elopement wedding. What is that? "Een elopement is meer ceremonieel en niet officieel'. So, celebrate your love first and plan a bigger celebration later with family and friends. Source: www.ad.nl
Coronavirus weddings: verplaatsen of annuleren?
The coronavirus has created hundreds of wedding cancellations and with that comes stress. In fact it has shaped our modern life and become a major part of future wedding plans. So, read this article to learn how to protect your mental health while planning your future nuptials. And get more advice here trouwen.nl
CORONAVIRUS WEDDINGS – AANVULLENDE INFORMATIE

Gedeeltelijke lockdown om het coronavirus onder controle te krijgen.

"Het kabinet heeft besloten de meeste maatregelen aan te scherpen; in de weken vóór de onderstaande data beoordeelt het kabinet wat er voor de komende periode nodig is."
"Alle grote evenementen, bijeenkomsten en disco's worden verboden tot nadere informatie van de overheid.'Regionale maatregelen: cafés eerder dicht, maximaal 20 mensen in feestzalen' Bron: www.nu.nl
Voor begrafenissen, kerkelijke huwelijken en bruiloften geldt een uitzondering.  Ceremonies mogen tot maximaal 20 – 30 gasten plaats laten vinden, zolang zij een afstand van 1,5 meter bewaren. En de gasten zijn verplicht om te zitten en niet te staan of rond te lopen,
But was this useful: Or are you still feeling anxious? Perhaps you have big concerns about the pandemic? Perhaps you live and work in Holland? Well, get actuele informatie over het nieuwe coronavirus van  www.rijksoverheid.nl Otherwise, pop back for an even bigger picture of this rapidly spreading virus. And remember greet with ease and wash your hands. Above all stay home, stay safe, save lives and stay strong!
Nu je hier toch bent – share the love!
Hoe voel jij je? Wat is jouw mening over coronavirus weddings! Laat hieronder je gevoelens en gedachten achter of stel een vraag.