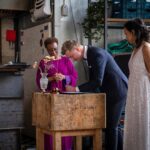 Planning a diverse wedding or multicultural wedding is a lovely way to mix traditions into your ceremony to make everyone feel inclusive. It's a marriage of two people of different cultural heritage, customs, faith or/and religious backgrounds. Bringing diversity to the wedding means you can incorporate your traditions and cultures into your big day. But have you thought about the wedding ceremony procedures? Also, perhaps you don't know about the proceedings and wordings for a multicultural wedding. So, where do you start?
Whether you opt for a mixed faith ceremony, irreligious marriage service or interfaith wedding you will need a program of events. But, before you plunge into the planning, let's think about the order of events and your multicultural wedding. If you and your partner come from different cultural backgrounds, you may like to include your individual traditions into the wedding ceremony and event. This binds, connects and links both families together. So, how do you fuse old traditions with modern day ones? How do you adapt, enhance and enrich an already heartfelt occasion?
From every couples standpoint you have the freedom to create a multicultural wedding that is as unique as you are. You don't want to offend anyone yet wish to be respectful of your guests' experience. Ask yourselves what is most meaningful to you? And what can you skip from the marriage service while being your true authentic selves? Well, don't stress, I'll help you and your partner figure out why your individual traditions are special to you. I've put together a service schedule for your multicultural wedding ceremony. It's an overview of the order of events on the day. Keep reading for some valuable tips…
Civil Wedding – Order of Service:  A legal civil marriage ceremony or union of love celebration requires a composed wedding script. Your ceremony should not contain any wedding prayers, psalms, religious blessings or music. However, a suitable script respects, re-enacts and follows the standard wedding ceremony.
Church Wedding – Liturgy:   An ordained priest appointed by the holy church, authorized officiant or wedding celebrant can perform a public worship service. Therefore the divine marriage liturgy has a particular order of service. This abides by your specific religious beliefs, morals, customs and traditions.
Celebrant-led multicultural wedding – order of service:   An experienced and trained celebrant officiates diverse weddings, where, when and how a couple likes it. You can get married anywhere you want; at the beach, at a museum or your home town. Celebrants guide you through the process of including your cultures with a mix of your traditions during a multicultural wedding ceremony ritual or unity ceremony.
Multicultural wedding ceremony order of service
Welcome your family, close friends and other wedding guests with a traditional song from your country of origin. This settles them in and makes them feel comfortable. It pleases the guest and prepares everyone for the multicultural wedding service.
Diverse weddings make everyone feel inclusive. So, make your walk down the aisle entrance an impressive jaw-dropping moment with a wedding march song, that reflects who you are as partners. A significant step to the threshold of your new life as a mixed race couple.
The priest or multicultural wedding celebrant welcomes your family and guests with a unique speech based on your mixed culture, faiths and traditions. After that, they share their opening thoughts about your special day. More importantly, find out if your witnesses are present.
The priest, officiant or multicultural wedding celebrant makes their speech about marriage and love. Thereafter, your family members' reading, affirmations or romantic poems can be enhanced with a personally chosen song that echos your mixed-race culture and traditions.
Think about adding a unique element of your culture and tradition before or after you exchange your vows and the rings. Why not have a singer perform an emotionally alluring song. This is when the tissues come out and tears of happiness flows at your multicultural wedding ceremony.
The official vows are the most important words you will say during the multicultural wedding ceremony. By repeating the statement of commitment after the priest, registrar or celebrant. This ensures you are married. During this key moment there is no music accompaniment.
Create a perfect picture scene and romantic ambiance during the official signing of your marriage document. Play something that echos your traditions and cultures. Music unites everyone while you and your witnesses are signing the multicultural wedding testament. The right melody will energize you and your guests.
The closing speech can also be accompanied by music. Arrange for a singer to perform or a set of instruments played after the priest, officiant or a family member have said their speech. A musical intermezzo adds a romantic touch while you and your partner walks up the aisle hand-in-hand.
Involve your family and wedding guests in the leaving procession. Allow them to follow you up the aisle with a sing-a-long or up-tempo song. Perhaps you'd like to add a special ritual from your culture. Something that reflects your traditions, beliefs and customs. Better still, why not create a new one! This is a magnificent finish to a perfect multicultural wedding ceremony. And it's ideal for bringing everyone together.
Do you need help with planning a multicultural wedding ceremony? For a non-religious celebrant led funeral service in Holland. Contact me, today.