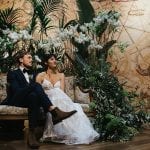 If you are an eco-conscious couple you might like to have a unique eco-friendly wedding shoot in Amsterdam without leaving a carbon footprint. Being mindful of your impact on the [nearly car free] city, you can make your stylised image a bit more sustainable.
In the heart of the Netherlands there are exclusive green locations for you to fulfill your dreams. Here is the deal, urban Amsterdam has canals, waterways and spots of greenery for you to plan a social wedding shoot. And if you class yourself as an environmentally aware couple, the city will help you carry out your ethical responsibilities.
So, if you need to feel totally guilt free about the environment Amsterdam will leave a positive impression on you. Even more exciting many boating venues employ earth friendly practices and asks that you do the same. Therefore, be conflict-free and discover how you lovebirds can capture priceless moments in the environmentally conscious Venice of the North! Read on…
Unique Eco-Friendly Wedding | Amsterdam

1.

Dignita Hoftuin



Firstly Dignita Hoftuin spans two canals in Amsterdam [Nieuwe Keizergracht & Nieuwe Herengracht] and borders the Hermitage. It is part of the Not For Sale social enterprise model. And works to provide certified training programs and support a vulnerable target group of individuals. By assisting the people in developing greater resilience they become reintegrated into the workplace and society. Basically, it's a charming spot for your pictures
2. Authentic Dutch delicacies at the flower market
Secondly, Amsterdam is the haven for ethical bulbs, lovers of life, and social activities. The buzzing city is an exciting and trendsetting metropolitan for you to jump the broom. So, once the wedding ceremony is completed pop over to "Bloemenmarkt" translated the Flower Market. This floating paradise showcases a rich assortment of tulips, roses and other organic flowers, the ideal backdrop for your eco-friendly images.
3. More hidden treasures for your unique eco-friendly wedding

With the above in mind, don't stay at one place all day. Discover more hidden treasures of this metropolitan together. Take a leisurely stroll through the quaint "royal streets" and the mesmerising "negen straatjes". And walk over the quirky bridges of this historic city laced with flowers. For fun, why not get your camera out and take a picture of you both strolling along the canals or on a boat cruise.
4. The Frankendael Park
Next, if you really want to stand out from the crowd, find a more secluded spot. Take some snap shots outside the Frankendael the former estate featuring a 17th-century home in an historic building. Frankendael Park is used for special functions and weddings. And this prestigious location located in a 7-acre park adds a touch of class to your photos.
5. The Vondel Park
Another place to hold your photo session is Vondel Park. It is a public urban park of 47 hectares and you can walk hand in hand while admiring the natural greenery. Head to the Blue Tea House, take a rest and reflect on your wedding day. Sit on the terrace of the famous landmark and take some selfies and let the beauty of the 19th century gardens astound you.
6. Red Light District
Within a stone's throw away from Vondel Park is the Red Light District. This section of vibrant Amsterdam is also known as the grown-ups playground. It's ideal, if you love canal houseboats, courtyards and dream of a quirky session set among a fun setting encircled by fetching water. Be aware, it's not really permitted to take photos, so find a secluded spot away from the hustle and bustle. I'm sure no one will disapprove.
image Carlos Perez
7. Dutch souvenirs – sex, drugs and rock and roll
So, you don't have to worry about leaving  your carbon footprint in Amsterdam. The city is steeped in history and anything goes, because it's Europe's most liberal city. Nevertheless, the notorious Red Light District, not only houses the ladies of the night but you'll also pick up a few notorious Dutch souvenirs [wink wink you know what I mean?]. On top of that, there is no lack of alternative art galleries, jazz clubs and fine dining establishments, too. Moreover, you can take a few snaps of you both enjoying a special night out.
8. The beautiful courtyards of the Jordaan
A must-see attraction is the UNESCO World Heritage (grachtengordel – canal belt area). Acquaint yourselves with the dainty courtyards (hofjes) and Westerkerk (church). And imagine the thrill of excitement seeing green vegetation plotted along the canals. Take snaps together at the nearby Anne Frank's House. Basically, you'll find pretty locations in the heart of the Jordaan [Prinsengracht, westermarkt & bloemgracht] which is packed with houseboats.

images courtesy of Andaz Prinsengracht Amsterdam
Over to you…
Please leave your thoughts in the comment box below. And like and share my Facebook page!