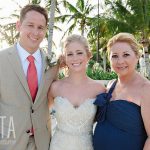 Being the formidable mother of the bride has many challenges when it comes to her role. And mum might be feeling rebuffed about the responsibilities and duties during the planning of her child's wedding. But, is mum the first and obvious choice for helping you?
Do you have a crystal ball and can you read mum's mind? Well, here are some official and unofficial things you need to know. Mum is at hand to help you reduce your stress levels, save you time and energy. And this way she will not feel left out of the wedding planning. Use these creative think-ahead steps to avoid any misunderstandings.
In addition, this handy guide helps you both prioritize things for the prepping of your wedding. Create, adapt, improve and edit to suit the memorable event. Print it out, put it on yours and your mum's fridge and tick off as you both complete and go along. Here we go….
Mother of the Bride Duties 

1. Mothers pride and joy
First of all, you are your mothers pride and joy, her child. And she's probably been patiently waiting for this moment to arrive. By the same token, her duties may not be obvious. In other words, that's why she might feel hurt, left out or sad about your upcoming wedding.
2. Misses out on celebrating the joyous day
Whatever, you decide her role throughout the setting up and stages of arranging your big day are invaluable. Your parents' brain could be fizzing with creativity and a great source of inspiration. Let's face it, thanks to your mum and dad, it is possible to celebrate the joyous day.
3. Mum wants to invest in your big day
Let mum help you breakdown all the funding needed for your day. A typical wedding can cost between 10.000 – 40.000 euros which includes location, food, drinks and wedding outfits. A party on the other hand, is less expensive. So, make it easy for yourself. And decide in advance if you want your mum to invest cash in your wedding.
4. Mum wants to be the joint wedding planner 
With the above in mind, mum's task could be as the maid of honour or your lady toastmaster. Otherwise, she'd be the perfect wedding planner and host at your event. It will save you some time and you'll be in charge of what goes or not. So, create a joint venture and pool rescoures together.
5. Say YES to the dress
Your mum's duties could extend to helping you look for the bridal dress. Better still, allow her to brainstorm with you about the dress code for the big day. This adds a little panache to your wedding theme. Do you want your guests to dress-up or dress-down? Having a clothing etiquette makes life easier for you and your mum.
6. Create wedding invitations 
Together you can sort out the wedding guest list and invitations. Fact is, you may oversee some minor details and a second pair of eyes is useful. So, after you've both got your outfits and accessories out of the way, think about the guests. Moreover, the mother of the bride duties is to assist with pre or post-festivity arrangements.
7. Mum helps ease the wedding planning load 
Last but not least, planning for a wedding is stressful and takes up a lot of energy. So, don't be shy to ask mum for help arrange catering, music or setting up the venue. Mum's interference might be a blessing in disguise. Her job can be to ease your load. Most importantly, mum offers you a listening ear, a shoulder to cry on and a big hug.
Over to you…
Please leave your thoughts in the comment box below. And like and share my Facebook page!