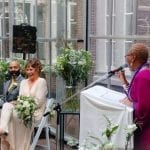 Mixed faith weddings are for couples who are culturally rich, naturally elegant, and desire a traditional wedding style to celebrate love. Planning a multiracial event where your culture, history, and traditions play a central role is fun and exciting but stressful.
Imagine you're ethnic background is Indonesian and you live in Australia. Perhaps your fiancée is Dutch and originates from Limburg NL. Although your backgrounds are totally different, you would like a blessing ceremony with Vedic prayers. And your H2B is a non-believer, who prefers to read love poems instead.
However, you don't want a segregated wedding, right? Should the ceremony take place in a church, the local town hall or at a luxury venue? And can you combine both belief systems? Well, you can. So, make a big statement, shake up things and fuse your dual identities with my help. Here we go…
Mixed Faith Weddings

How to survive the big day!
main image burgundy productions
1. Love beyond colour and language
To begin with there are plenty of all-inclusive wedding venues that cater for mixed-race couples marriage celebrations. And as you can't choose the person you fall in love with, you sure can choose the place to get hitched. So, embrace it and celebrate beyond traditions and the language barrier.
2. Real interracial wedding story

In addition the cultural significance of your mixed faith wedding is empowered by the powerful speech of Bishop Michael Curry. Get to grips with planning an interracial affair. And read this [non] christian wedding reading for inspiration. Perhaps it mirrors your belief, background and family traditions.

3. Speeches for mixed faith weddings

But how do you set a precedent like Megan Markle? How do you recite a meaningful and emotional wedding speech with confidence? Well, poems and readings warm the coldest hearts, ensure joys of laughter and a weepy tears. So, find the best speech that suits your mixed faith wedding.
4. Mixed culture / belief wedding celebrant

Traditional and modern day marriages both work for couples. Regardless of your colour, creed or religious beliefs a mixed culture/belief celebrant can integrate your wishes into the ceremony. Performed separately to the legal signing of your civil register you swap your vows and the wedding celebrant incorporates a special blessing.
image Juliano-alves
5. The practices of multi-faith weddings
Additionally, love is colour blind and beauty is in the eye of the beholder. So, staying true to yourself is of vital importance in planning a blissful and meaningful wedding. By including some traditional or religious elements/practices you personalise your ceremony. Add a splash of diversity to make your nuptials memorable.
6. The elements of multi-faith weddings

Equally important, whether you are Canadian and want to marry someone who is Chinese or a Hindu who is marrying a British man. Perhaps you are Jewish and would like to marry a Russian partner. Or you could be South African engaged to a Greek partner. Well, you can successfully blend a variety of rituals and traditions into the multi-faith ceremony.
7. Religious & traditional elements

So, how do you celebrate your religious backgrounds, common interests and marriage beliefs? Whether you are Catholic, Protestant, Jewish, Buddhist, Muslim, agnostic or atheist. You can host an interracial wedding tailor-made to your ethnic and cultural heritage wishes. And without offending everyone your ceremonial celebrations, with traditional, religious or non-religious wording adds the wow factor.
8. Songs for mixed faith weddings

And there's more exciting times ahead. Transform the definition of multiracial marriage. So, break with old traditions and create a new one for contemporary times. Highlight your different backgrounds and originality with music. Moreover, push boundaries and get wedding inspiration from others like you and celebrate love beyond borders with a song!
image madball
9. Two part wedding ceremony
And with more interracial marriages and mixed faith weddings, two part wedding ceremonies are trending. So, if you're from different religious backgrounds or have distant relatives you get the chance to swap your vows twice! So, join your two families and make life easier for yourselves. You can have a marriage service, blessing or  interfaith ceremony. How does that sound?
10. Formal or informal multi-faith wedding

Lastly, if you want to create something uniquely distinctive to forge everlasting memories think about your wedding funds. The wedding theme could be high-end, casual with luxurious details found throughout. Choose your countries traditional wedding colours such as jewel tones, like sapphire, gold, and ruby.
Mixed faith weddings related links
While you're here…
Is there something else I can help you with? Please leave your questions or thoughts in the comment box below. And like and share planning interracial weddings inspiration for mixed-race couples!