A wedding celebrant is trained to be the master of ceremonies at your ceremony but during the reception you can top it and convey the perfect speech. In fact, mastering the craft of celebrancy isn't easy. But, how can you run the whole show yourself?
Here it is…according to en.wikipedia.org, "Celebrancy is a movement to provide celebrants to officiate at weddings and other celebration of life ceremonies. With the officiating trend on the rise, brides like you want to get in on the act. As the master of ceremonies [MC] it's your responsibility to look the part, too.
So, whether you're an introvert or extrovert, as the MC you need to be bold and take charge. Don't panic, I'll teach you how to be the best master of ceremonies ever. These insider trade secrets you can learn and implement. Here are my 5 simple tips and tricks on how to capture your guests' attention at the party or wedding breakfast reception.
Master of Ceremonies  – Handy Tips & Tricks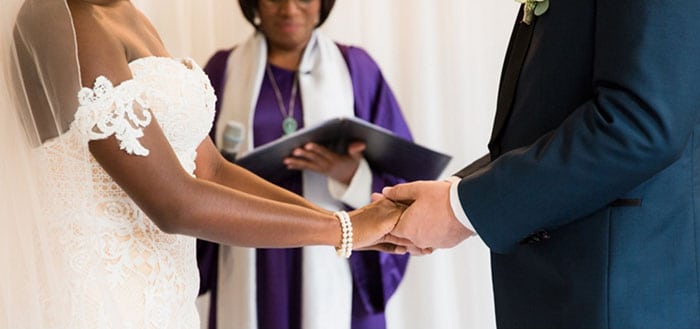 main image | Ashley
Finesse skills of a master of ceremonies
Foremost, being the celebrant of your own wedding ceremony or MC requires that you speak clearly with confidence to the recipients. This finesse skill is especially important while announcing your arrival. On top of that, you must introduce yourselves during the reception. Moreover, your introduction may include sharing your exceptional love story and anecdotes.
Master of ceremonies = Host with the Most
With the above in mind, get together with your future hubby, bridesmaids, grooms and your parents to discuss the planned event. Ask your loved ones what might be needed (ideas for the wedding reception) in order for you to deliver the announcements. This will help you both create an amazing itinerary of events. For more in-depth information about what to ask or your task, contact me.
Brides take charge of the wedding situation
Another thing, feeling uncomfortable with your bridal task will not help you. Stay focused! Have a good visible presence at the wedding venue while addressing your guests. Let your self-confidence shine. Be aware of your posture and state of mind. Trust you're doing the right thing and believe in yourself. Otherwise, family, friends  and acquaintances will sense your uncertainty. Be yourself, smile and have fun.
Your image is important to your success
First impressions really do count. Think about how you wish to portray yourself as a master of ceremonies at the wedding. Did you know that your appearance (75%) will be the primary thing the couple and the invitees will notice? And this is before they listen to your voice (25%) during the wedding announcements. What about getting a second outfit for the reception?
The right clothes maketh the master of ceremonies
In addition, get an appropriate wedding outfit or wear something that brings out your personality. Nevertheless, clothes that fit properly and feels comfortable is necessary. A well-dressed and well-spoken master of ceremonies is the key to a faultless event. Moreover, leading a flawless ceremony and giving an awesome performance is a must.
Bonus tip | Be confident, charismatic and dignified
Finally, compose yourself during the wedding ceremony and reception. Your overall approach will echo your big day. And remember, your vibe, charm and attitude will be representing you both. So, check out more powerful body language tips for being the best master of ceremonies you can be. Good luck for the big day!
" It is true that love is blind but marriage is definitely an eye-opener?"
www.you-can-be-funny.com/masterofceremoniesjokes.
Over to you…
Have your say, tell me what you think in the comment box below. Like and share it!