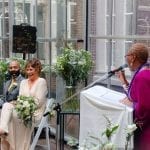 Interracial weddings confirm that love can cross borders and blended marriage traditions add to the uniqueness and beauty of your special celebrations. In truth, if you are a mixed race couple planning your big day, how do you make it stand out from the typical wedding?
Well, the recent high profile nuptials of Prince Harry and Meghan Markle sparked a major reaction from multicultural couples like you, wishing to tie the knot.
Moreover,  ceremonial traditions that mirror your different backgrounds enhance the celebration of diversity. Source: wedding planners – Maggie Daniels & Carrie Loveless. Marriage gives everyone, regardless of race, creed and religion (including white men) the opportunity to marry who they want, where, when and how.
So, getting back to my question how do you plan to celebrate your mixed raced relationship? Read more about interracial weddings and about black women who desire to marry white men.
 Interracial Weddings | How to survive the big day!
main image burgundy productions | above image Jasmine Wallace Carter
1. Civil marriage and interracial couples
Firstly, planning your mixed-race marriage service proves that love has no colour. Although most weddings look pretty much the same, a legal one between two consenting adults of a different race may pose a challenge. But, it doesn't have to be. Regardless of your colour, creed or religious beliefs a registrar or celebrant can deliver, acknowledge and formalise your loving partnership.
2. Add a splash of diversity with your wedding vows

Actually, love can cross borders and is colour blind. But, how do you stay true to yourself and plan a blissful and meaningful wedding? Well, be creative with your vows make them sound like your personalities. A splash of diversity has a powerful impact on your guests. So, take a leaf out of the triumphant royal family and shake up the mainstream wedding readings.
image Juliano-alves
3. Steal ideas from other real interracial weddings
Actually, be inspired by this real wedding. The wedding of Sam and Caroline, otherwise known as Mr. and Mrs. Müller took place at an exquisite country estate in the heart of the Netherlands. This charming and extremely attractive mixed race couple planned a timeless wedding ceremony. Moreover, it was one of the most happiest experiences of their lives.
4. Black brides and White grooms
Additionally, Cheryl Y. Judice is the author of Interracial Marriages Between Black Women and White Men. And she published the first academic text on the experiences of black women in interracial marriages. Additionally, she is a professor in the School of Education and Social Policy at Northwestern University. readersfavorite.com
5. Think out of the box

So, whether you want to host an intimate or big wedding it can be customised to your ethnic and cultural heritage wishes. And with strong family ties designing your own special celebrations will enrich your traditional values. Another thing, by creating something uniquely distinctive you'll forge everlasting memories in the mind of your family and friends.
6. Interracial weddings highlight your originality

Lastly, exciting times are ahead and you can transform the definition of marriage. So, break with old traditions and make new ceremonial rites that mirror your different backgrounds and originality. The key to planning the perfect nuptials is to push boundaries. Furthermore, take the next logical step and get more information about interracial wedding inspiration.
Related links
Over to you…
Please leave your thoughts in the comment box below. And like and share my Facebook page!