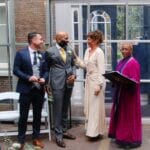 Interracial marriages are for mixed-race couples who want a personalised wedding ceremony that mirrors their faith, traditions and beliefs. Inter-ethnic wedding ceremonies are the acknowledgement and embodiment of diversity, inclusion, commitment, love and loyalty. Whatever you're ethnicity being in a biracial relationship is exciting, joyous and a source of happiness. However, if you are planning a wedding it can be stressful and bring big challenges.
The fact is, as a native English-speaking 'black' celebrant I know that interracial marriages need to give their wedding extra attention. Most mixed-race couples have different faiths, beliefs and backgrounds. So, officiating an inter-ethnic wedding is quite challenging. What wedding traditions and rituals are there? Can blessings be incorporated? How do you highlight both cultures during an officiated-led  marriage service? These are good questions to ask. And Caroline and Nayan asked the same thing about interracial marriages.
So I guided them through the proceedings and presided over their interracial marriage ceremony. Who are getting married?  Nayan and Caroline's cross-cultural and mixed race wedding plans were underpinned by a mutual love of travel, shared sense of adventure and fashion. The mature but young at heart couple are cut from the same cloth. Originating from Manchester but residing in Amsterdam the couples' goal was to have an alternative mixed race marriage service. Read on…
What brought the couple together? Why did they have an interracial wedding? Of course, there is always a common denominator. And that is Nayan and Caroline's shared ethical beliefs, joint interest in travel and mutual love of spending quality time with family and friends.
Where was the second wedding hosted? Well, the pair wanted a lively autumn wedding celebration that fused Hindu and British marriage cultures and traditions. Later on, they planned a big fat Hindu wedding in Nayan's country of origin, India. So, be inspired by their cross-cultural fusion wedding ceremony. Perhaps you'll want to create your own. Keep reading…
Happy bridal couple: Nayan and Caroline
Venue: Dignita Hoftuin De kas – greenhouse | Nieuwe Herengracht Amsterdam, Netherlands
Date: 28th September 2019
Mr & Mrs WP's lives had crossed three times, once in Britain and twice in Holland. And the chance meetings finally led to twelve years of relationship bliss. When did Nayan pop the question? Well, it was on their love trip to India and Caroline said YES, at one of the seven wonders of the world. The UNESCO world heritage site Taj Mahal.
Caroline came down the aisle and Nayan didn't take his eyes off her. Positioned in front of the altar, we warmly welcomed the blushing bride and handsome groom. And guest were greeted with "Namaste". It was a touching and serene moment. Nestled in an idyllic garden the venue complimented the glorious sunny autumn day. In fact, the greenhouse was filled with the perfume of the beautiful couple's chosen bridal flowers. It oozed peace.
But, are you wondering where they found me? Well, read this:
Hi There Clover!
We found you via The Celebrant Directory and would love to speak to you about your services for fall and winter weddings! I hope you have all the details necessary to get in touch! Thanks and hope to speak to you soon!
Writing the marriage service script was pure pleasure. We incorporated all important family members and revised many drafts to get it right. Nayan and Caroline spilled the beans on their love life and guided me down a romantic memory lane. Of course, the couple didn't share all the juicy bits, just enough to create a lively ceremony and deliver a cracking wedding speech.
The greenhouse wedding ceremony with see-through glass walls and ceilings was perfect.  Under the enticing autumn afternoon sun of the Dutch conservatory, family and friends witnessed the beaming couple make promises of undying love, loyalty and commitment.
The beaming couple choose not to swap promises of love but opted for the "official" wedding vows. It read: To have and to hold from this day forward, etc. Then, the ultimate moment of the ceremony arrived, Nayan looked besotted when I said, "You may now kiss each other." The congregation cheered and clapped, as the happy couple shared a kiss while warmly embracing each other.
The groom and bride exchanged rings, kissed, and completed the wedding ceremony with the signing of a symbolic marriage certificate. Nayan sealed the deal and confirmed their commitment to each other by hitting the ceremonial hammer on a wooden block.  Smiles of joy and happiness filled the ceremony room and cheered.
Lastly, Caroline and Nayan invited family and friends to affirm that they would help them find middle ground and fall in love, time and time again with each other. Guests responded with "We will" and cries of laughter, joy and non-stop tears.
Welcome music: Yellow Brick Cinema – Relaxing

Bride's processional: United guitar players – Here Comes the Sun
Marriage certificate signing song: Yellow Brick Cinema – Relaxing
Recessional: Jasmine Thompson – No place I'd rather be
Stunning bride's attire: No veil, just a singel white flower in Caroline's hair. Dress by www.jacquemus.com  2018 collection…… | comfortable wedding shoes by bride
Dapper groom's attire: Smart grey suit and accompanying yellow tie with white flower in buttonhole.
Venue –  Dignita Hoftuin – De Kas [greenhouse]
Caterers – own caterers & eatwelldogood.nl
Wedding photographer –  Jothornhill photography & burgundyproductions.nl
Dear Clover,
What can we say?!  You made our day and set the tone perfectly for our whole day, we couldn't have asked for more, it was totally perfect!
Every single one of our guests said you were fantastic and it was the best fall wedding they had ever been too. We can't thank you enough!
Thanks
Mr & Mrs. WP
Please leave your thoughts in the comment box below.