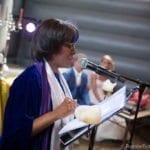 Are you thinking about a humanist wedding ceremony? It's a preferred choice if you want to celebrate your special bond where, when and how you like it. Based on your ethical principles this non-religious ceremony is outshining traditional church weddings and marriage registration services.
In truth, this distinctive and alternative wedding ritual is all about you and leaves your guests spellbound. Even more exciting a humanist celebrant-officiant led wedding is a morally binding contract, more personal and less restrictive.
Let's face facts, if you want to get legally married on a specific date then having a celebrant officiated wedding isn't for you.
Basically, with a non-religious ceremony there are no limitations on the choice of your venue. The humanist wedding incorporates your attitudes towards marriage. Moreover, if you want to tie the knot in another country a celebrant can make it happen for you. So, keep reading more about humanist weddings.
Humanist Wedding Ceremony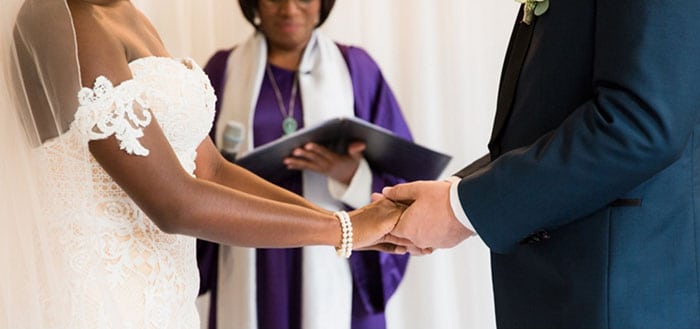 The negative side of a humanist wedding

Based on your principles and designed for couples without a faith-based background, a humanist wedding is an uplifting non-religious ceremony. The negative side is that you will not receive a marriage certificate. However, it is a moral agreement to fulfill the promise of marriage. Moreover,  it allows you to split the intricate paperwork and ceremonial part of your wedding.
The positive side of a humanist wedding
Here's the deal…..on the positive side of a humanist wedding ceremony your chosen celebrant gets to know you well in advance of the big day. And the beauty of it all is you  pick out an unauthorised location. Imagine getting married in a castle, museum or luxurious venue. This gives you the opportunity to experience the feel-good factor associated with the traditional aspects of a marriage service.
How long does the wedding ceremony last?
By splitting the legal and ceremonial elements of your indoor or outdoor wedding you are in charge. The humanist ceremony is less restrictive and does not adhere to official wedding rules. Therefore it can range between 20 – 45 minutes. So, whether you choose for a short, long, intimate or flamboyant affair it's your big moment.
A wedding without dogma, traditions, rules and regulations
And what about this then… perhaps you class yourself as a humanist. This means you are not religious but a fully fledged humanist who believes in human beings. And you feel that humanity is more important than dogma, traditions, rules and regulations. Therefore a humanist wedding ceremony is perfect for your beliefs, values and principles.
Humanist weddings add a truly special dimension
Primarily, finding the perfect location to celebrate your alternative marriage, completes the excitement of your upcoming event. And your informal ceremony can be anything you want. Actually, you set length of time, venue and the select amount of guests you'd like to attend. This adds a truly special dimension to your wedding day.
No venue restrictions
Secondly, before booking your celebrant, you'll need to take the bare minimum of witnesses to the town hall for your official registry office marriage. Then you'll be able to maximize on your humanist wedding ceremony. Additionally, with no venue restrictions, your non-religious matrimony will be relaxed, personal and totally unique.
Special occasion about new beginnings
Lastly, your wedding is a special occasion about new beginnings and a fresh start. And many celebrants have a charismatic approach to weddings and can help you prepare an amazing wedding ceremony. What's more, your shared and articulated love story through the eyes of a celebrant will reflect your personalities. Moreover, they'll make your humanist wedding ceremony exciting, inspirational, brief or elaborate.
Humanists UK, is a charitable organisation which promotes Humanism. And it aims to represent "people who seek to live good lives without religious or superstitious beliefs" in the United Kingdom
Over to you…
Please leave your thoughts in the comment box below. And like and share my Facebook page!