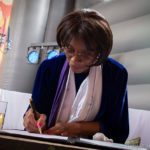 A celebrant led wedding allows you to experience the feel-good factor associated with a personal and bespoke ceremony. Having a celebrant that identifies with your wedding wishes creates a feeling of trust and understanding. But, how long will your ceremony last? 
Primarily, your non-religious wedding can be thorough and detailed or brief and to the point. Depending on how many sparks you want to fly at your wedding. The amount of time spent on each key step (see below part I & II) is 3 to 4 minutes. So, the entire ceremony can range between 20 – 45 minutes.
Secondly, a ceremony conducted by a dependable celebrant gives you the opportunity to celebrate your wedding the way you envision. And that means no restrictions, religious terminology or the word of God taken at face value. Unless you specifically request otherwise (possible with an interfaith minister). Read below the 2 key parts, that you need to consider.
Celebrant led wedding & life partnership ceremony part 1
A wedding is a special occasion about new beginnings and a fresh start. And many celebrants have a charismatic approach to weddings. With the help of your independent celebrant your wedding ceremony can be exciting and as long or as short as you wish. 
Your arrival at the venue: First is your entrance – walking up the aisle (individually, together or escorted). This commences after the prelude (optional). And then, followed by your favorite processional (instrumental) song. Sit or stand during the ceremony.
The introduction: Secondly, as your independent celebrant I'll interact naturally with you and your guests. Then, greet, welcome and thank your family and friends for being part of your special day, on your behalf. Also, we can take a moment of reflection to acknowledge the absence of a loved one and honor their memory.
Share your love story: The celebrant will share your emotions, experiences and how much your partner means to you. Or recite a love & friendship poem, give a blessing, or read a non-religious scripture.
The meeting and proposal: Next, what makes your relationship special? Convey this in your personalised ceremony speech. It contains key details about your first encounter and the proposal. As well as, your love for each other, shared values and your hopes for the future.
Wedding vows – yes I do: What were the important moments (setbacks and success) in your life? What does love mean to you? Express your declaration of devotion, and intent in your personal vows. Here are questions you need to ask before writing your wedding vows.
Celebrant led wedding & life partnership ceremony part II
Confirmation:  Pronounced married, you are now husband and wife.
Rings, hand-fasting or other token of love: Exchanging of your rings will take place. Or give a wedding charm bracelet or  hold a hand-fasting ceremony. Otherwise, blending of sands ritual or unity candle may be a possibility. Give a gift that represents your love for one another.
The kiss: After that, you kiss. And this seals the ceremony of love plus confirms the joining of 2 families.
The signing of marriage certificate: Declaration of marriage. You and your witnesses sign a wedding certificate (symbolic) or non-certified marriage license (sentimental reminder). Live music or a soundtrack can accompany the signing.
The words of well-wishes: You stand and receive your symbolic marriage certificate/license. Read are wedding words of wisdom. And a parting speech from the celebrant makes the wedding complete.
Closing remarks and departure: Finally,you leave the venue and walk down aisle together as happy newlyweds. Love ones can follow as you walk along to your recessional song (played or sung live.)
Celebrancy is a movement to provide agents to officiate at ceremonies often reserved in law to clergy or officers of the courts. source: https://en.wikipedia.org/wiki/Celebrancy
Over to you…
Please leave your thoughts in the comment box below. And like and share my page https://www.facebook.com/British-Carribean celebrant.