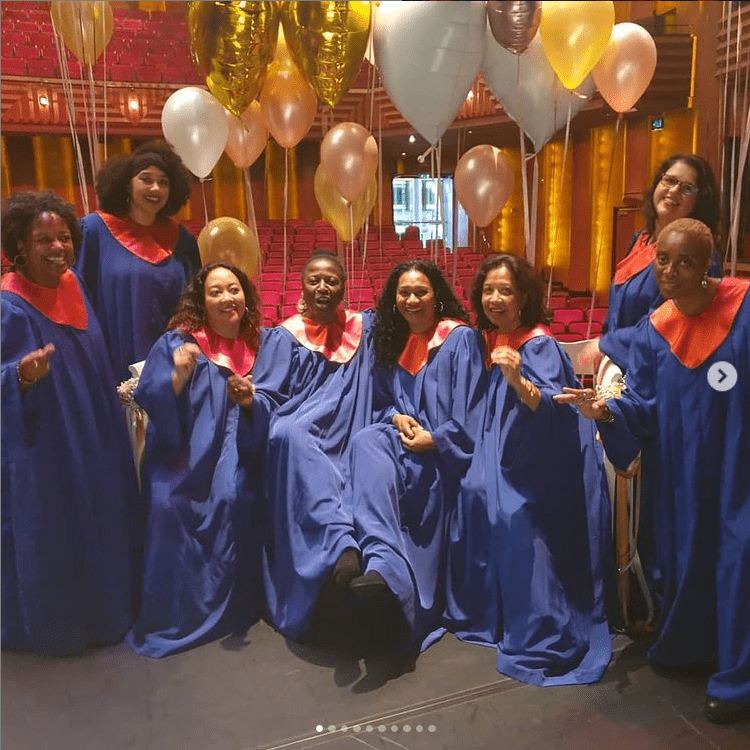 A gospel soul show adds a personal touch, live music, humour and fun to your wedding or party celebration, to create the perfect ambience. Although, a gospel and soul choir transforms your day with a musical performance and enhances your guests mood. Does it it impress family and friends?
Well, you can create a great surprise for everyone with a gospel & soul show. It becomes a unique and wonderful day. There is a lot involved in choosing songs at your wedding. Therefore with a gospel & soul show you can accommodate all your wedding guest needs.
That will bring everyone together. And above all take them on a musical journey and more importantly set the right tone on your perfect day. Let's look at some more interesting reasons to hire a gospel and soul group for your big wedding day.
Gospel Soul Show
1. Small gospel soul choir makes your big day complete
Firstly a small gospel & soul choir is affordable and unique entertainment. It is a music experience for you and your wedding guests. It has advantages far above a larger ensemble, because of limited space at your location. Whether you are planning to get married in a church or at a wedding venue a smaller choir, is ideal.
2. Gospel soul group gives your wedding ceremony an extra twist!
A gospel and soul choir comes in many shapes, sizes and price ranges. For less than € 700.00 you can hire a small gospel & soul formation. They can be booked with or without traditional gospel robes this sometimes cost more. Otherwise, you request that they wear appropriate clothing. This is sure to brighten up your wedding or reception party. More importantly, provide music entertainment on your big day.
3. The legacy of Black American Gospel music
Gospel music dates back to 1619, when enslaved Africans were brought to the United States. The legacy of their cultural traditions, vibrant, uplifting, and rhythmic communal music and gospel spirituals was born. Spirituals boosted the slaves spirits, conveyed sorrow, allowed everyone to share secret messages, and seek comfort in God. Nowadays, this genre in Christian music is composed and performed at religious gatherings, ceremonial events, and as entertainment at a wedding or party. 
4. Gospel soul music is lively, original, and entertaining
Besides the fact that all choir members of a gospel and soul choir sing, dance and clap along. What makes the music exceptional is the "call and response". A leading gospel singer performs, followed by a response from the choir. "Call and response is a form of "spontaneous verbal non-verbal interaction between speaker and listener in which all of the statements ('calls') are punctuated by expressions ('responses') from the listener."[ Source Wikipedia.com 
5. Non-religious but fond of gospel music
Let's face it you are a lover gospel music however not religious or a Christian. There is no need to worry, because the music touches everyone. Secondly, it is ideal for your wedding occasion. The songs like "Amazing Grace" and "Oh Happy Day" are great for young and old. Especially, the hits "Higher & Higher" and "When the Saints Go Marching" are suitable for both practicing and non-practicing families & friends.
6. Gospel act injects humour into a wedding
Why not add a little fun and humour into your wedding ceremony, to get the guests laughing and dancing. A gospel and soul show is perfect to entertain guests and get them up on the dance floor. Imagine a choir performing the songs from the movie musical "Sister Act," "Dream Girls" and "The Blues Brothers". The popular gospel, soul and blues hits are great sing-a-long songs to entice everyone to mingle.
7. Gospel Soul Show authentic
To summarize with a gospel soul show you create a wonderful wedding or reception party. A gospel & soul formation will provide a warm and energetic atmosphere at your special event. And thus you will fully enjoy gospel classics, contemporary sounds, Motown and soul hits. In other words, this music genre will appeal to all your family and friends. Above all it will ensure that all your guests clap, sing and dance, and that you and your guests have a memorable day.
For more information about booking a gospel & soul show for your wedding ceremony or reception party, go to www.cloverjean.com.
Over to you…
Please leave your thoughts in the comment box below.