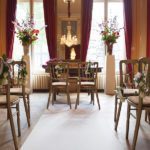 Historic October weddings in the beautiful city of Amsterdam give brides and grooms-to-be this autumn the opportunity to feel like the Dutch king and queen. Marriage is about new beginnings and a fresh start. However, planning a stylish wedding can be very stressful.
Imagine your dramatic entrance at your grand ceremony in the heart of the Netherlands. Followed by a luxury reception and glamorous party. It sounds exciting, right? And the best thing is you can make it a reality. For that reason, you need to be aware of the time and costs involved. Plus, the effort you need to put in to make it happen.
Nevertheless, we both know stress during the planning of October weddings can be affect your relationship. So, I have done all the hard work for you. Take a look…
October weddings
Enjoy a theatrical style wedding that fits a king and queen
Firstly, in light of the Brexit negotiations, it is possible to have your royal nuptials in Amsterdam. However, it must be compliant with Dutch law. Therefore, you must sort out your legal paperwork in the country of your residence.
Celebrate in a superior hotel with family and friends
Next you can celebrate your October wedding in a superior hotel with family and friends. For more details go to https://www.iamsterdam.com/en/living/take-care-of-official-matters/documents-certificates/registering-marriage.
Take into account what you need to marry in Amsterdam
Additionally, you must meet certain conditions and make certain arrangements if you wish to tie the knot in regal style in Amsterdam. Non-Dutch citizens must obtain a residence permit or a completed personal declaration. The same rules apply if you wish to enter into a registered partnership.
Host your event at a historical museum
But, once you have complied with the local authorities requirements in the country where you reside. You can host your grand event at a museum or the botanical gardens in Amsterdam. However, the question is, how are you going to organise your big day on dry land or on a boat? Find out more information at Expatica – family essentials.com.
Combine royal English traditions with a Dutch feel
So, whether you both are American, English or Dutch your cultures are important. Represent both families and friends by combining English with Dutch customs. Additionally, let in-laws and guests share in your joy. Get more in-depth information from Expat.nl.They are more than happy to answer all your questions.
Legalisation of foreign documents for use in Amsterdam
Marriage for the 2nd, 3rd or 4th time is the triumph of hope over experience. So, official documents have to be certified, notarised or translated by Dutch law. This does not apply to legal paperwork drawn up in Dutch or English.
Strict terms and conditions
However, the ministry of foreign affairs has strict terms and conditions about documentation permitted for use in the Netherlands. Here is more information about Dutch weddings in Amsterdam.
Ministry of Foreign Affairs can answer more of your questions
In addition, read more general information on legalising foreign documents  at https://www.government.nl. And find out about sanctioned documents in the Netherlands at the Consular Service Center (CDC) of the Ministry of Foreign Affairs. Or else go to your town hall for more details.
Venue ideas for October weddings
Here you will find wedding venue ideas to help with the setting-up of your royal ceremony. Moreover, their on-site planners help you personalise your unique nuptials. For inspirational English or Dutch design examples, visit Pinterest.
The English Reformed Church awaits your presence
Lastly, planning October weddings in Amsterdam is not difficult. You are free to have a non-religious or religious marriage ceremony. There are plenty of licensed, non-licensed or boat venues available to you. At the Posthoorn kerk or the English Reformed Church you can seal your vows. Otherwise arrange a service at the Church of Our Lady.
Over to you…
Please leave your thoughts in the comment box below. And like and share my page https://www.facebook.com/British-carribean celebrant.