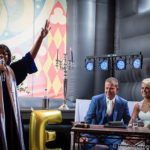 Wouldn't it be lovely to have a garden wedding this spring, summer or autumn 2022? A backyard gathering with the ones you love to celebrate your marriage is a cherished celebration outdoors.  So, why not plan a alresco event in your outdoor space at home. But, where do you start?
Celebrating such a significant milestone comes with its own unique set of challenges. Realistically, to lay on an alfresco wedding costs energy, time, and money. Especially, if you are worried about the logistics and have a no clue about a location that echo's your love of family. How do you celebrate it with a wow-factor?
We'll, you can do that. Do you have a sizeable house and beautiful garden in the suburbs, a small urban flat, or a large country estate garden? Well, don't make it a labour of love. Plan your alfresco wedding ceremony at home. It will be meaningful, sentimental and fun. I've done the hard grunt for you. Let's kick start  your marriage with an unforgettable outdoor celebration.
Garden wedding ideas
1. SELECT THE DATE
Firstly, your love for each other is pure and authentic, so naturally you deserve a remarkable outdoor celebration. Choosing your all important alfresco wedding date could be difficult. But, it doesn't have to be, simplify things and arrange it after the registration of your civil marriage ceremony. Makes sense, right? Source more advice about midweek weddings.
2. LEGAL STUFF
An alfresco wedding ceremony is a beautiful way to celebrate the love you truly feel for one another. So, you don't have to hold a celebrsnt-led marriage celebration at a registration office or a licensed venue. You are free to throw your event any time, any place after your official wedding ceremony at the town hall..
3. CELEBRANT

So, don't forget to hire a celebrant, if you don't want a registrar, priest or a family member to officiate your alfresco wedding ceremony. Getting married is a big step to take and a celebrant can help you demonstrate your enduring love in a very special way. It will be an outdoor wedding for you and your guests  to remember.
Garden wedding – II
4. GUEST LIST

How many guests should you invite to your outdoors affair? How many people can you cater for without breaking the bank? Depending on the size of your home or venue, a small and intimate alfresco wedding can consist of 50 guests or under. A medium wedding guest list has 50 to 150 guests, and a large outdoor wedding can host over 150 attendees.
5.  LIGHTING POSITIONS 
Have you swooned over incredible Instagram images of joyous alfresco weddings dressed in twinkling lights? Well, colourful festoons and white fairy lights can be strung around the garden to create a magical mood for your wedding. However, an outdoor celebration at home with no power source is a no go. Rock my wedding has great tips about lighting up the key points of your backyard.. www.rockmywedding.co.uk
6. RECEPTION GROUNDWORK 
Look at it this way, for a nominal fee you can encompass all your alfresco wedding ideas. Imagine creating a marriage ceremony reception under shaded tree cover in the garden. Surrounded by love ones and friends it's going to ooze love. So, before the enormous undertaking, design an outdoor reception party to-do-list. It keeps you sane during the planning of your wedding.
Garden wedding – III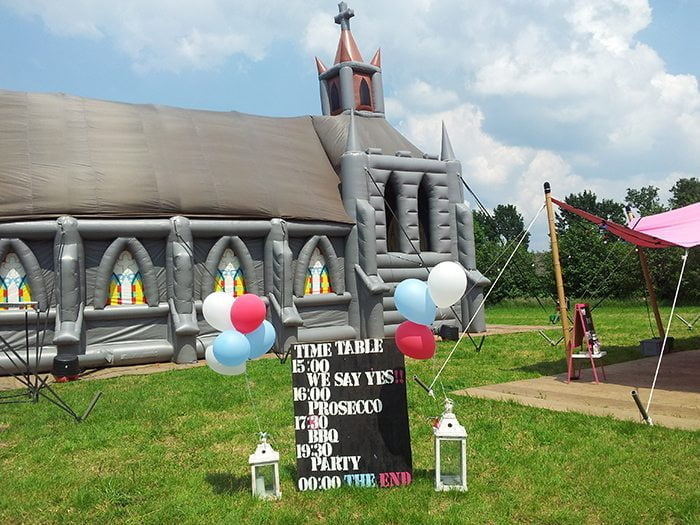 7• OUTDOOR WEDDING PALETTE

Throwing an alfresco wedding celebration at your home can be anything you want it to be. What about a pastel-inspired colour palette, neon colours, bold bright colours or a nude wedding scheme, you can go for it. Need some inspiration? Hitched.UK reveals the beautiful colour combinations you need to consider. Get ready to find your perfect palette for your wedding theme!
8. ALFRESCO DINING
Another thing, for outdoor catering contact your local town hall, as you may need an license to serve drinks and food on your premises. Arrange this in advance. Thereafter, hire a mobile bar and serve booze, food, cocktails, canapes and champagne on the premises. But how much do you ration per guest for alfresco dining? Use a  calculator.
9. AFTERNOON TEA PARTY
In fact, making a statement about your special wedding day can be stressful. Plan a tea time gathering, pull off a distinctly English themed reception. Imagine guests tucking into delicious tiered cakes, sweets on pretty stands and vintage tea sets. And don't forget cake slices, cutlery, napkins, dainty lace doilies and hand-crafted name place signs. Source: www.wedding-venues.co.uk
Garden wedding – IV
10. WEDDING WATER FEATURE
Additionally, did you know water purifies and cleanses us? Well, that can symbolise love too. So, if you have an outdoor pond, reinforce your deep feelings for one another with a water feature. Rejse floating lightboats are perfect to lighten up the happy alfresco wedding occasion. A few sets of floating light boats can turn the pond into a fairy tale at your garden wedding party. Next to that Rejse boats are a meaningful gift to celebrate your cherished wedding memories.
11• OUTDOOR STAGING

Secondly, your homegrown garden needs to look aesthetically pleasing, breathtaking and appealing. So, think about staging, lighting, a shaded area and the overall decor. This will reinforce the promise you made on the day of your marriage. Furthermore, it adds the finishing touch and wow factor to your alfresco wedding ceremony. Guests will feel comfortable, too.
Garden wedding – V
12. WEDDING ALTAR 
Do you have a shaded area, patio or pavilion for an out-of-doors wedding altar? You can recreate your alfresco wedding day and make your ceremony extra special. Celebrate your marriage first (second) time around, and create a an area for your walk up the wedding aisle. Whether you plan an afternoon, late evening or midnight alfresco affair transform the garden into a beautiful altar. Position your ceremony in a shaded area with a red carpet runner and floral pergola.
13• PITCH A TENT

Outdoors means being exposed to the elements. If weather permits you'll need no covering. Nonetheless, it's wise to have a plan B. Align your ethical values with the climate change. Pitch a marquee, canopy, gazebo or a yurt. Erecting an easy up tent has you and your guests covered in extreme conditions. Pitched Events.co.uk is specialised in sailcloth, sail tent and traditional pole marquee weddings.
14. BUDGET
Coupled with the above, reassessing your vow renewal ceremony budget should be a priority. Work out the financial side of things. So, whether you are budget-conscious or busy estimating the funds; you'll need plenty of cash. Make sure you do it without tipping over the budget. Speculate costs with the ultimate wedding budget calculator.
15. ORGANISE SEPARATE SPACES
Creating a personal space for you, your partner and guests, takes the vow renewal party to the next level. Socially-distancing second time weddings means couples can create a quiet "chillax" zone to have a chat. Try something new and nonconformist – plan an unrestricted alfresco ceremony. Read more about  memorable wedding parties.
16. VENUE
Lastly, if the planning of your vow renewal party is too much and your home living space doesn't suffice. Why not, opt for a local venue, dream location or destination wedding to celebrate a special anniversary. Recreate the magic, let a professional organise the biggest second wedding of your life.
Garden wedding – VI
While you're here…
Leave your ideas, questions or comments below.