Arranging a fun entertainer will inject the wow factor into your wedding or party event. Your family members, best friends or colleagues will be highly impressed. It's a surprisingly original and affordable way to bring everyone closer together.
As your event performer, I'll say it with a surprise singing telegram service. It will spice up the mystery of your festivity. Whether you are planning something special, or a ceremony lighthearted and personalised entertainment is a real eye-catcher.
Basically, with the assistance of an entertainer you'll inject life into your party. In addition, it will go off with a bang. I'll host your event by warmly welcoming, receiving and escorting your selected guests.
What do your family and friends mean to you? 
By celebrating an important life moment you'll remember it forever. Your relatives and acquaintances will have immense pleasure. And everyone will love it. In fact, organizing a celebration with me as your party entertainer, ensures your family and friends chats, laughs, mingles and gets on the dance floor.
Just imagine the look of amazement, when a fun entertainer dressed as a toastmaster appears at your venue. And announces they have a unique present and hand over the personalised telegram. This memorable act brings a big smile to your loved ones' face. Not only will they feel appreciated, but everyone else enjoys the moment, too. You make it happen.
Thank you so much for your Caribbean music act at the wedding of Wesley and Branka.

— Love, Anita Schoenverzorging Otten & Zn Amsterdam
With out further ado, let me introduce you to my two comedy characters exclusively for you. They are eager to meet and greet you and your guests. And set your celebratory ideas in motion.
Butlerette Jeanette (see above)
Dressed in her ceremonial clothes, she adds a touch of classic slapstick to your wedding or event. Due to her attractive decadence and hospitable presence, this usher is an expert at rolling out the red-carpet for your guests.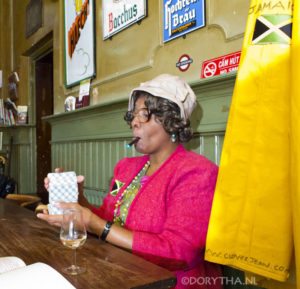 Granny Josephine (here on your right)
This young at heart old lady is no party popper. She can foresee when a singing telegram needs to be delivered. Her bubbly personality makes your noteworthy occasion a yearly tradition that will not slip your guests mind.
Unquestionably, they'll help you design a remarkable and pleasing treat. Read more about them here and watch the video.
Your fun entertainer for all occasions
Lastly, with these entertainers you'll change a dull occasion into a jaw-dropping one. Furthermore, the unique entertainment creates a fun show-stopping effect. Most importantly, it's a great alternative gift idea. And it's cost effective and well within your reach.
So, now it's over to you. Are you interested in finding out more, why wait? Let's have a natter about your needs and options, today. Email or call +31 (0) 6 148 17242
As soon as you started, you united everyone with your surprise telegram, music and performance. Everybody, relaxed, laughed and became jolly and happy. Randall and Mo couldn't believe their ears, agreed with everything you said, and enjoyed it the most. Much love! — A. Daniels, Holland