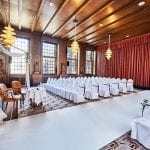 Exclusive weddings at renowned grand hotels in the Netherlands make your wedding day memorable. Although, these luxury venues are in a premier league of their own, planning a wedding is still extremely stressful. So, do you want to host an extravagant wedding?
Face facts, a multi-million dollar wedding is flamboyant and ridiculously expensive. What's more, planning your nuptials costs time and energy. Flash trimmings take your event to the next level. And the grand hotels organise the event with precision so that it 'goes off without a hitch'. Another thing, a lavish space for your spectacular ceremony needs to be jazzed up with fancy decorations.
So, getting back to my question, do you long to celebrate in style? And do you want to have a highly rated celebrity, royal or show-business wedding planner facilitate your glorious day? Well, keep reading below and discover five prestigious wedding venues in Holland where you can hold your fancy celebrations.
Exclusive weddings
photo credit michael graste | sofitel legend grand hotel
Sofitel Legend The Grand Hotel | Amsterdam

Firstly, Sofitel Legend The Grand is part of Sofitel Hotels & Resorts. This legendary hotel has served different purposes and functions. Dating back to the 15th-century, it was once a convent. And from Dutch royal lodgings, Admirals' headquarters to the Amsterdam city hall, the hotel boasts a rich history. Another exciting thing, you can get married in their luxurious marriage chamber and follow in the footsteps of Princess Beatrix and Prince Claus. The Grand offers everything to make your special day unforgettable.
Amstel Hotel | Amsterdam

Secondly, listed as one of the world's finest hotels, the intercontinental Amstel is proud to host exclusive weddings. And the famous venue situated in the heart of the city possesses over suites bedrooms for your wedding. In truth, this superior 5 star establishment offers excellent  service. Moreover, you'll receive a warm welcome, have panoramic views of the Amstel river and enjoy fine dining on the classy terrace. Incidentally, Queen Elizabeth, King Carlos of Spain and Rihanna has honored their presence at this secluded retreat.
above image Franklin Heijnen
Grand Hotel Amrâth Kurhaus | Scheveningen

Alternatively, escape to the mastery hospitality of the Grand Hotel Amrâth Kurhaus.  The luxurious 5-star Grand Dutch Hotel is located in a beautiful monumental building, right at the coast of Scheveningen – The Hague. Another thing, the Kurhaus has a rich, celebrated and illustrious history. It's origins dates back to 1818 and the well-known Kurzaal has remained intact. Furthermore, the tremendous hotel features 8 suites, a restaurant, terrace and a Spa & Beauty. Welcome to 'a World of Luxury by the Sea'!
image Glyn Lowe PhotoWorks
Kruisherenhotel | Maastricht
Additionally, the former Kruisheren monastery and adjoining church is an historic location to host exclusive weddings. And this spectacular five-star design hotel in the heart of Maastricht facilitates you to the highest of standards. It's a member of Design Hotels™ and has been Awarded the Dutch Hotel Award 2017. Kruisherenhotel combines thought-provoking architecture with original features throughout the 60 ultra-modern guestrooms. Furthermore, each room has it's own individual quirks and details.
Finley White House | Loosdrecht
Lastly, your romantic wedding at the magnificent Finley White House will be one to cherish forever. Married in style, the extraordinary wedding location on the water, Loosdrechtse Plassen caters for your and your guests every need. And the exclusive venue encompasses a beautiful garden as the perfect backdrop for your stunning spring or summer wedding. After the luxurious ceremony, you can continue the wedding celebrations with family and friends at the chic but intimate bar.
image | https://finley.nl/trouwlocatie/
Over to you…
Please leave your thoughts in the comment box below. And like and share my Facebook page!