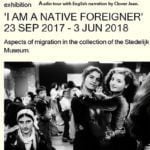 23/09/2017 – 02/06/2018 All Day
Stedelijk Museum Amsterdam, Amsterdam
Ticket
The Stedellijk Museum Amsterdam is the museum of modern and contemporary art. In 2017 – 2018 the Stedelijk Museum presents a new exposition that explores various aspects of migration. "I'm a born foreigner", is a collection that depicts how the impact of migration has affected today's artists. As a Britsh expat from Afro Carribean roots,  and voice-over actor I contributed to the English narration audio tour.
Stedelijk Museum Amsterdam – "I'm a born foreigner"
Additionally, the museum highlights by means of the exhibition, past artists contributions. And that they have been greatly influenced by the movement of people to another country. The title "I'm a born foreigner" is a statement by the Mexican artist Ulises Carrión (1941-1989) who lived in Amsterdam since the 1970s.
Stedelijk Museum Amsterdam visiting hours and admission info: http://www.stedelijk.nl/en/exhibitions/i-am-a-native-foreigner
Please like my https://www.facebook.com/awsmweddingservices/ and share this article. And leave your thoughts in the comment box below.