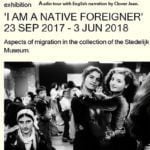 23/09/2017 – 02/06/2018 All Day
Stedelijk Museum Amsterdam, Amsterdam
Ticket
Stedelijk Museum Amsterdam – Exhibition featuring Clover Jean voice over actor. Read the experience of a British expat from Afro-Caribbean roots.
Stedelijk Museum Amsterdam – "I'm a born foreigner"
Modern exposition about migration
The Stedelijk Museum Amsterdam is the museum of modern and contemporary art. In 2017 – 2018 the Stedelijk Museum presents a new exposition that explores various aspects of migration.
"I'm a born foreigner", is a collection that depicts how the impact of migration has affected today's artists. As a Britsh expat from Afro Carribean roots,  and voice-over actor I contributed to the English narration audio tour.
Additionally, the museum highlights by means of the exhibition, past artists contributions. And that they have been greatly influenced by the movement of people to another country. The title "I'm a born foreigner" is a statement by the Mexican artist Ulises Carrión (1941-1989) who lived in Amsterdam since the 1970s. www.stedelijk.nl
Confirmation of the voice-over gig
Hi Clover!
Good news: the Stedelijk Museum is happy and wants you on board. I knew you would be perfect, and they agreed. Your're the right voice actor for the job. So, we've got the green light to go ahead. Hurray!
Regards!
Geert van de Wetering
www.waacco.nl & www.kostgangers.nl