06/06/2021 17:00 – 19:00
Kempenaerstudio Stichting, Amsterdam
Laughing Wild Play a must-see theatre play, a two person monologue feat. Clover Jean & Brandon Delagraentiss. It's a black comedy about the stresses and strife of modern life in Covid times.
The play focuses on two strangers one story, they encounter one another at the supermarket…..This performance is set in a makeshift Open Air Theatre at Kempenaerstudio, Amsterdam. Refreshments and snacks available!
But before you book your ticket (s), here's a little background information.
Laughing Wild Play – Two Strangers One Story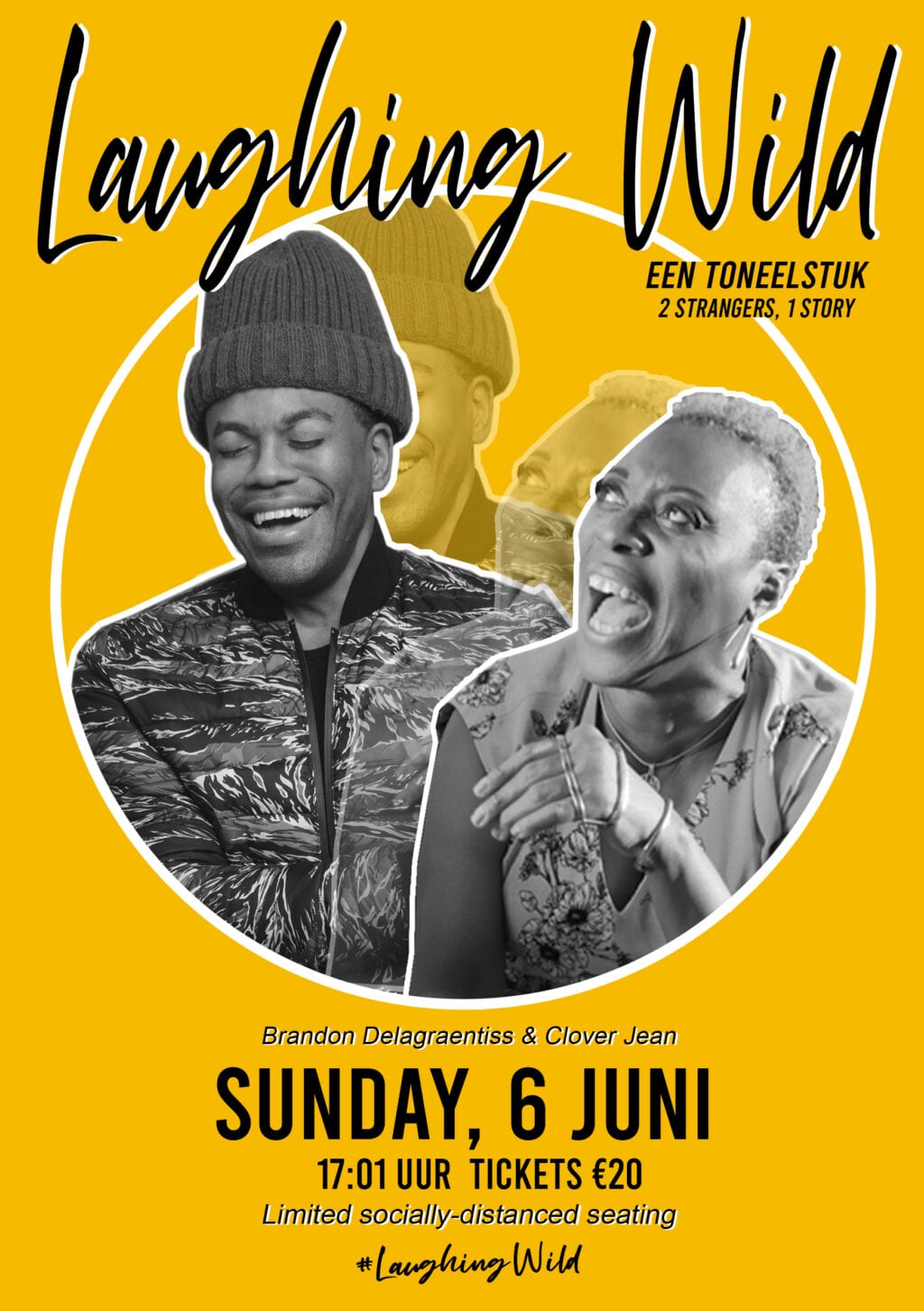 Laughing Wild Play by Christopher Durang, the new production is by Brandon Delagraentiss, it stars him and Clover Jean.
It  is a provocative and funny study about the perils and stresses of modern life in Covid times.  Unique in form, the play consists of two monologues (one for each performer) plus an hilarious scene which brings the two together. During this playlet, it turns out the two strangers are having overlapping dreams.  The cast and performers are:
| | | |
| --- | --- | --- |
| Woman |  ………………………….  | Clover Jean |
| Man |  ………………………….  | Brandon Delagraentiss  |
Date: Sunday 6th June 2021
Time: 17.01
Place: Kempenaerstudio, De Kempenaerstraat 11B, 1051 CJ Amsterdam
Entrance fee: 20 euros
Seat availability: 25
Tickets sold: 19
Seats remaining: 6
BOOK YOUR TICKET(S) HERE
05/11/2019 18:00 – 21:00
The rhythm workshop is fun to do with your family, friends, or colleagues. Surprise them with Afro-Caribbean music and get everyone moving. This unique activity is contagious, it invites everyone to feel free to join in the fun.
Rhythm workshop

"Our CEO was very happy and we received some amazing feedback about singing & rhythm workshop. Thanks."

Alicia Neveling – SHV Energy Global Internal Communications Officer
What is a rythm workshop? Through easy vocal & rhythm exercises, you will connect to friends & family and your true-self. It's accessible to all ages and tailor-made to fit a specific need without breaking the bank.
Why choose a rhythm workshop? Your looking for a distinctive workshop that brings the ones you like and love together. It could be a wedding surprise, retirement gift or birthday celebration. So, opting for "a healing laughing session" feels right. Plus, leaves a lasting impression that stays in their memory forever.
Where does it take place? Wherever you want. The workshop can take place in a workspace, venue or at a place of your choice. Of course, charges will be incurred for the hire of the premises and for a P.A system (if it's not onsite). It will be an amazing and uplifting event.
Do we have to be musical?
No, all levels of experience are catered for – the laughing in rhythm workshop is based on "call and response". You're free to let your creative juices flow, feel free to be you in a relaxed fun way, within a safe environment. Everyone picks up the vibe – in no time!
Who will give the workshop?
Me, as a natural soul rhythm coach, with 30 years of experience I look forward to making a tailormade laughing in rhythm workshop for you. So, that all your family, friends or colleagues feel at ease, mingle, laugh and have fun!
How long is the laughing in rhythm workshop?
With a fun 30 to 60-minute workshop you can get the hen night, wedding day, anniversary party or team building started. During the short session we will do a vocal warming up, rhythm exercises and finish off with a playful game. Everyone shall interact, they will love it!
What does a rhythm workshop cost?
Like I said, the cost of hosting this exciting is under 12 euros per person! So, contact me today for more information on booking a tailor-made activity.
30/09/2019 – 30/09/2020 All Day
The Dutch fruit drinks company Appelsientje is back. This advert features me Clover Jean. After a successful audition round, I was given a supporting role in their latest commercial.
Appelsientje

With the ultimate summer feeling, new packaging and new products, they are still the best thirst-quencher under the sun.
Part II
Basically, they've transformed the taste of Appelsientje into a positive beverage for the summertime and beyond. And it's a refreshing alternative to soft drinks. Appelsientje drink is a satisfying and enjoyable drink for everyone.

Appelsientje
With the products of this drinks company you can enjoy the best sun-ripened fruit. Even more exciting it has no added sugars or sweeteners. And no preservatives, because the products are briefly heated for shelf life. It's tastiest and best drink ever.
The goodness of juice
Do you start the day with a glass of fresh juice? Well, this juice drink has been made from pressed fruit and nothing else. Read all about what this juice has to offer besides the delicious taste.
Purity begins at the origin
Where are the oranges from? The oranges originate from the Brazilian orchards. For 40 years this drinks company has had a passion for fruit and juice. In fact, their care for quality, nature and people makes them one of the best drink companies in Holland. Purity starts at the origin, get more information now!