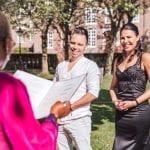 The elopement wedding is the ideal "I Do" ceremony for couples seeking an exclusive place to swap their vows. It is an intimate and quick stress-free romantic getaway for two. But designing a wedding on the spur-of-the-moment means practicalities and legalities must be taken into consideration.
The ultimate expression of devotion, loyalty and trust is an elopement wedding. It's important to celebrate your love. However, you don't want to upset or hurt your family and friend's feelings either by going it alone.
So how do you avoid disappointments? And how do you enjoy an intimate moment for two while pleasing your tribe? Easy, I've done all the legwork to remove the stress and the guesswork of an elopement wedding. Jump in to the planning details now….
Elopement Wedding

image | Rosanne & Ricardo elopement wedding @ keukenhof
Surprise elopement wedding

Firstly, is an elopement wedding legal? Well, that's totally up to you guys. You can have a non-binding ceremonial wedding or opt for a legal marriage service. The legal paperwork can be obtained from your local town hall – marriage council official. With a ceremonial wedding a celebrant helps you cherish the moment for the rest of your life.
Sort out the elopement budget

Did you know, a lot of amorous couples secretly desire to have a wedding for two? Adventurous and bold enough you might say, "Oh sweetheart, let's elope" and escape to enjoy a secret rendezvous. Although it's inexpensive because there are no venue or guest costs a photographer is required. So, find a wedding ceremony budget checker.
Create a corona free zone
Don't let me burst the "couple bubble". But are your family happy for you? Or are they unhappy with your choice of partner? Or do your friends criticize and judge your life choices? Well, stop feeling anxious by putting off planning an intimate wedding. You don't have to invite anyone, but enjoy an extremely fun wedding experience for two.
Wed in virtual reality
Additionally, your relationship is sacred. It's where you both find comfort within each other's space. On top of that you want to safeguard your privacy. But, you could decide to live stream your wedding. Remember to state a dress code on the invitation. And hook friends and family up to your corona free virtual elopement wedding.
Pick a wedding date
So, fantasizing about a passionate elopement during the pandemic could be on your mind. Imagine a picturesque location, anywhere you want in the world [within covid-19 travel restrictions]. Perhaps an off-peak wedding date or month suits you. Namely, the wedding seasons are in turmoil. Why not opt for an off-peak season and go to your favorite city.
Contact a wedding vendors

Equally important, contact a local wedding planner to get the ball rolling. Reach out to vendors: celebrant-officiant, photographer, hair & makeup artist, and a florist. Let the wedding professionals do all the legwork. And find out each suppliers covid-19 policy in regards to social distancing and gathering rules. Don't incur a fine.
Elopement wedding venue

Another thing, envision celebrating your love at an idyllic location. From the Amsterdam Toren, the Waldorf hotel, Conservatorium hotel, Scheveningen to the Amsterdam Grachten Canal, an elopement wedding is possible. Utter your vows at a private wedding venue and make it reality.
Host a big bash later
Lastly, an elopement wedding compared to a traditional marriage service with a complete event production, is ideal for the covid-19 wedding rules. If you marry in secret without entertaining guests, your parents and friends, plan a larger wedding celebration later. Don't let corona consume your wedding plans.
STRIPPED-BACK WEDDING PLANNING BASICS

To elope means to run away and to not come back to the point of origin.  More colloquially, elopement is often used to refer to a teeny tiny marriage conducted in sudden and secretive fashion, usually involving a hurried flight away from one's place of residence together with one's beloved with the intention of getting married. In fact, it's a stripped-back wedding for two. Source: en.wikipedia.org/wiki/Elopement
Over to you…
Please leave your thoughts in the comment box below. And like and share my Facebook page!