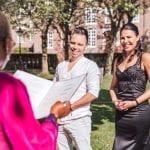 With uniquely personalised weddings on the rise, it inspires the impromptu marriage ceremony an elopement wedding to follow suit. It's the perfect ticket for a private and romantic getaway for two. Coupled with that, the biggest trend for a twosome wedding is to celebrate it abroad. But, how do you elope?
Not only that, what does an elopement for two mean in the Netherlands? Well, embracing the notion of a quickie wedding might be disturbing. What's more, sneaking away to plan an undisclosed and memorable spur-of-the-moment event without disappointing, upsetting and hurting your family and friend's feelings could be stressful.
But, nowadays, the reasons for an elopement wedding are usually more romantic. And you can create something significant and special, it can be one you'll cherish for the rest of your life. So, I've done all the legwork for you to plan a blissful elopement wedding for two in the land of tulips. Read more about the pros and cons….
Elopement Wedding | Pros And Cons
image | Rosanne & Ricardo elopement wedding @ keukenhof
In the beginning was Gretna Green  – Scotland
Firstly, mull over this…elopement weddings stem from America, Britain and Scotland – Gretna Green's "runaway marriages" from 1754. This ceremony is personal, private and about you and your partner. Compared to a wedding with a complete event production, it's ideal if you want to marry in secret without entertaining guests.
Twosome elopement wedding for turtledoves
In case you didn't know, a lot of amorous couples secretly desire to have an exclusive wedding for two. Adventurous and bold enough to say, "Oh sweetheart, let's elope", you too could enjoy a secret rendezvous. An intimate ceremony can be performed by a life-partner facilitator or marriage adviser such as a celebrant or officiant.
Create your own couple bubble
Don't let me burst the "couple bubble". But your family might be unhappy with your choice of partner. Or friends might criticize and judge your life choices. So, this leaves you feeling anxious. Thus, put off planning a big wedding event because inviting everyone becomes an extremely stressful experience.
Tie the knot in the country of your choice
Secondly, most relationships are sacred. It's where two people find comfort within each other's space and safeguard their privacy. Regarded as sacred marriage is still at the top of many couples wedding list. But, who really wants to attend a wedding? It's a stressful experience, pointless dresses are worn never to be seen again and awkward family photos are taken."  https://www.theguardian.com
Intimate moments with the two of you
So, whether you're fantasizing about a passionate elopement or a small congregation in a picturesque location, you can plan it anywhere you want. Perhaps a shoulder season [April through mid-June and September though October] is for you. Travelling between peak and off-peak seasons to your favorite city gives you the opportunity to truly experience intimate moments with the two of you.
Parents unhappy with your venue choice
Let's face it, if your parents does not agree with your decision, this could be upsetting. Plan a large celebration party later. And envision this, you've celebrated your love at an idyllic destination. Upon your return home, find a local celebrant, to help you make your wedding dreams come true. Sounds cool, right?
The perfect hidden venue for an elopement wedding
Additionally, perhaps you've always dreamed of saying YES at an exclusive but more practical and hidden location. Or you want to utter your vows at a romantic and private venue. What about a Las Vegas strip wedding, Gretna Green ceremony, or a fairy-tale matrimony at Disneyland? Any of these dream locations could be the perfect option for your fantasy big day.
THE WEDDING PLANNING BASICS

To elope, most literally, means to run away and to not come back to the point of origin  More colloquially, elopement is often used to refer to a marriage conducted in sudden and secretive fashion, usually involving a hurried flight away from one's place of residence together with one's beloved with the intention of getting married. Bron: https://en.wikipedia.org/wiki/Elopement
Over to you…
Please leave your thoughts in the comment box below. And like and share my Facebook page!