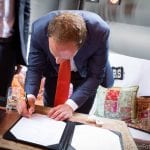 The symbolic signing of your Dutch marriage certificate is a seal of approval and proof of your union and wedding celebrations in the Netherlands. Once you've said, "Yes", exchanged rings and kissed you might want a document to confirm your love.
What's more, it is morally binding in the eyes of all your loved ones. But, did you know, in the Netherlands an official marriage license is signed legibly with a black pen. Why? You have a powerful and solid connection. And it's obvious to the naked eye there is a serious chemistry between you two.
So, sealing your undying love for each other, with a black pen is authoritative and safeguards the authenticity of your Dutch marriage certificate. This ensures the originality of the signed symbolic license. Keep reading to find out more…
Dutch marriage certificate

Life partnership license

To start with, your Dutch marriage certificate is sealed when you sign with a special black pen. A black pen will be resistant to fading. Eventually, exposure to light will discolor your document, making it unreadable and unclear. Signed at an approved (or unapproved) wedding venue, your symbolic license becomes morally binding. This shows proof of commitment and love for one another. So, store it away for safe keeping.
Symbolism of wedding in the Netherlands
Furthermore, your signature on your lifetime partnership declaration is a lasting memory of your special day. And your symbolic marriage certificate contains essential details, the date of your celebration of love and names. Plus, you'll find the venue and your witnesses' signatures. And the symbolized mark of the certified celebrant proves your companionship is legitimate. If lost you can order a duplicate from your celebrant.
Proof and evidence of your Dutch wedding in Holland
To conclude,  there is no need for you to bring a black pen to the ceremony to sign your certificate. The celebrant supplies one for you! The signing of the document commemorates your marriage and is evidence of your wedding in Holland. Moreover, black ink is more archival, permanent and reliable. Therefore, you can safely sign your Dutch marriage certificate and you are guaranteed a replacement if need be.
Over to you…
Please leave your thoughts in the comment box below. And like and share my Facebook page!