Coronavirus weddings are every couples', suppliers, vendors and entertainment bureaus  worst nightmare. Covid loves a crowd, so engagements, pre-wedding parties and anniversary celebrations are on hold. How do we navigate the new small marriages rules in the future?
How on earth do we survive in this climate? Let's face reality, we've tolerated the virus enough. And we're all left in a limbo about the social element of weddings. Itt's swayed brides and grooms to celebrate an exciting milestone.
From the ceremony, reception and party – safety regulations must be adhered. In fact, the impact of coronavirus makes everyone nervous. The future looks dark, dull and gloomy.
And there's more devastating news. Brides and grooms to be like you have abandon, canceled, postponed or rescheduled their destination wedding in Holland. Not to mention, we're suffering under the uncertainty, lots of us have lost a loved one, our wages cut, and jobs obliterated. Read on..

Coronavirus weddings – BREAKING NEWS

protocol & strict preventative measures
Next update: 09-02-2021
The coronavirus lockdown has been halted by the vaccine. Immunization has begun. Hopefully, this will combat the deadly global pandemic. And life can get back to a 'new' normal.
PARTIAL NATIONWIDE LOCK DOWN 2.0 in Holland imposed until 9 February 2021.
The Dutch RIVM –

National

Institute

for

Health

and

Environment

has permitted small weddings at Covid-secure venues. This means sit-down meals for 20 guests can take place. Persons must be seated. A distance  of 1.5 metres (approx. 2 arm's lengths) from other people should be maintained.
image JoThornhillPhotography 
Check weekly Dutch government Covid updates

So, what's next? Existing with covid-19 has a long time effect on wedding travel plans. An immunisation program is on the way, restrictions eased. Hopefully, by the summer larger marriages are allowed. Find out from experts what steps you can take to keep safe and avoid the spread of the virus. And come back weekly for the latest Dutch government updates.

Don't panic  – Coronavirus weddings

What is coronavirus (COVID-19 – orignated from Wuhan China)? According to www.who.int it's a large family of viruses. For instance, the common cold to more severe diseases such as (MERS-CoV) and (SARS-CoV) has been associated with it. But, hope is insight a vaccine, cure and remedy is being worked on as I speak.
Rebook Covid-secure wedding venue 2021 / 2022 / 2023

So, how do you have a great, socially-distanced wedding abroad, despite the pandemic and restricted travel? It's impacted our big plans overseas. Together with that we are self-isolating, and in solitary confinement so as to contain the spread of infection. Therefore, use the time to rebook your wedding abroad in 2021/2022/2023.
Keep active – coronavirus weddings self-care tips
In addition with travel restricted and a limitation on social interaction. Self-isolating to contain the spread of infection maybe affecting your mental, physical health and wellness. So, don't let it beat you down. Self-care is an essential part of your life. And even more so important to take the  opportunity to get out of the rat race for a while and rest.
Be flexible – Tom's wedding planning spreadsheet
Do you feel bored, lonely and uncertain about your future? Well, this digital age allows you to get together [on or offline] with your partner and readdress your budget? If you've had to postpone or reschedule maybe it's time to look at the checklist for your upcoming celebrations. Keep yourself entertained with Tom's wedding planning template.
Contact wedding supplier – Guidesforbrides.com

"Your venue has bookings for popular dates in 2021 wedding season. So, be flexible in finding an alternative date. Suppliers are quite within their rights to charge a supplement if you decide on a expensive "peak" date.  Remember you probably don't have the "right" to postpone without penalties. So, find a compromise." www.guidesforbrides.co.uk
Get wedding cancellation insurance
Have you cancelled but paid in full? Well, the deposit may be affected. As stated in some policy wording, 'Insurance companies will pay up to the amount shown for any irrecoverable expenses incurred by Covid-19: attire, flowers,  caterers, transport, and accommodation. Other services booked but not used are considered too. So, check your coverage of unavoidable cancellation or curtailment of the Wedding or Reception now!
Be patient plan a multiple celebration

So, you've still got the bridal gown in your closet ready to go, right? Be patient and think about planning a multiple celebration. Since Covid-19 tier system entered our lives, there has been a spike in "One Couple, Two Weddings: Multiple Celebrations". Call it split, your wedding can be celebrated numerous times.
Get savvy –  wedding travel quarantine rules
Furthermore, COVID-19 has hit honeymoon, wedding travel season and other anniversary celebration arrangements in Holland. And the Dutch Health Authorities want you to self-quarantine for 10 days. What does this mean? If you are travelling to Holland, with your guests everyone must self-isolate in one place for ten days, upon arrival. 
Stay alert about coronavirus

"UK Prime Minister Boris Johnson is ramping up the seriousness of the coronavirus. "It's the government's "top priority". Actually, with the number of cases set to rise, NHS England says it is scaling up its capacity for testing people for the infection". This is to flatten the curve plus curb of the spread. www.bbc.com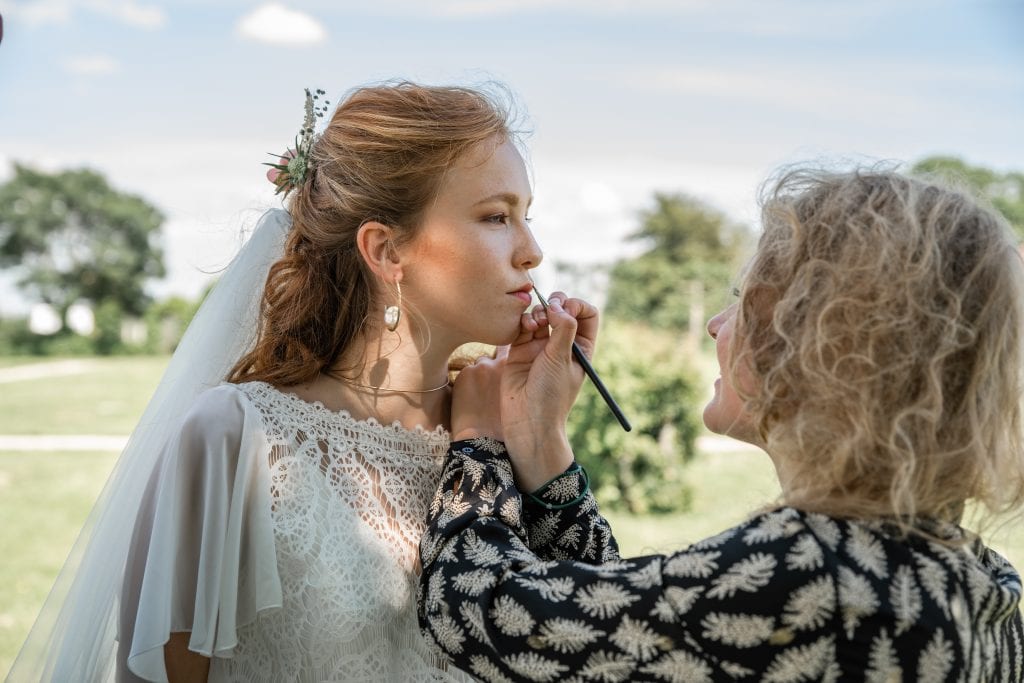 image Lisanne kooij
Exercise social- distancing
Most governments have implemented a safety measure to stop the transmission and spike of COVID-19. Social distancing is in our daily mindset. Socialising in parks is monitored, travelling on public transport, and remotely working from home is the norm. Standing or sitting 1.5 – 2 meters apart is commonplace. publichealthmatters.blog.gov.uk
Be optimistic – masked & online weddings
Do you still want to go ahead with your plans? Well, you can have a coronaproof wedding. Perhaps it's wise for your guest to wear mask throughout the ceremony. Either way, these options sound are less personable. So, opt for a virtual celebration for two, with witnesses and the officiant. Online weddings and masked marriages can save your relationship.
Protect your life – coronavirus weddings ban

A wedding in France left 76 guests infected with Covid-19 despite safety measures. The wedding hosted 250 guests and took place on 8 August on the edge of Paris. The outdoor event followed all local rules and regulations, according to one municipal official. Source: www.brusselstimes.com
Seek guidance about ceremony rules & regulations

Many celebrants are worried about your ceremonial wedding celebrations. So, seek guidance about amended the date. Another thing, during this global pandemic there are less physically and face-to-face meetings with you the couple. However, we have embraced online wedding blessings and other forms of video-chat.
Keep guest in the loop & communicate

Additionally, restrictions on travel are still in force. Do you need to cancel your trip? Keep your wedding guests in the loop via 'old school' methods emails, texts, and phone calls. Together with that read your travel insurance policy thoroughly. So, find out about your destination wedding plans. www.travelguard.com
Update wedding website about coronavirus weddings

Have you created a website to announce your wedding? With all the free time on your hands, make sure you keep it updated and mass-share it live with family and friends. In fact, use it to give advice or guidance about travel, health and other safety measures of your upcoming nuptials..www.standard.co.uk
Think out of the box – elope or cut wedding guest list

And there's more..Coronavirus and weddings: do they go hand in hand? Well, play safe and start rethinking about an impromptu wedding. It's a unique elopement ceremony [minimony] for two. Otherwise, cut your Covid-19 wedding guest list. So, celebrate your love first and splurge out on a bigger celebration later with family and friends.
Keep calm – Coronavirus wedding stress

The coronavirus has created hundreds of wedding cancellations and with that comes stress. In fact it has shaped our modern life and become a major part of future wedding plans. Read this article to learn how to protect your mental health while planning your future nuptials.
Have faith – practical guide for couples
Its a difficult and testing time, right? Well, the Coronavirus has impacted all future marriage celebrations. On top of that, it has affected the natural human touch of personalised weddings because of the social-distancing regulations, too. But, don't let me burst your bubble get some relief and practical tips at Unconventionalwedding.co.uk.
CORONAVIRUS WEDDINGS – ADDITIONAL RIVM MEASURES
    Last update: 08-12-2020 | 19:00

    Dutch government new emergency measures:
Prohibited meetings, social gatherings and weddings for clusters of up to 100 people. This includes events. But there is an exception for funerals.
Banned are sporting fixtures, discos, concerts and music festivals.. However, the above is subject to change. Source: www.rijksoverheid.nl
But did you find this useful and are you like me still feeling anxious? Let's face it, we don't know how long it will last. So, let's keep an eye on it. Therefore feel free to pop back for an even bigger picture. And greet with ease and wash your hands. Above all stay home, stay safe, save lives and stay strong!
While you're here – share the love!
What is your opinion about coronavirus weddings? Leave your thoughts, questions or comments below.