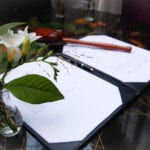 Do you want to resume planning your wedding day timeline at your venue in Holland? Find here Coronavirus weddings guidance for getting married in NL. There's a big shift towards smaller and intimate weddings. So, how do you survive the current marriage rules in this new climate?
Although destination weddings and inviting foreign guests is a logistical nightmare for every wedding couple, supplier, vendor, and marriage officiant. With lockdown measures tightened, wedding sectors, engagements, pre-wedding parties, receptions, and anniversaries are pushed to the brink of despair.
Sadly, the (omicron variant) Covid virus is here to stay and we have to learn to live with it. Nevertheless there is a glimmer of hope on the horizon to keep it at bay. Countries around the world have faith in a booster vaccination programme. People are getting jabs and being immunized. And on the much brighter side, the future of weddings doesn't look dark, dull and gloomy. So, take into consideration the following, read on.
Coronavirus weddings – clarification
TODAY'S BREAKING NEWS 
As of Tuesday January 15th 2022, Holland is in a partial lockdown until further notice. There are less stricter rules for wedding ceremonies and parties. No gatherings of more than two people are permitted at home.
You must practice good hygiene by washing your hands and comply with the 1.5 metre distance rule in municipal buildings (town/city halls) and venues. It is compulsory to wear a face mask (unless due to health reasons you are exempt). Source: www.rijksoverheid.nl
Next press conference update from the acting Dutch Prime Minister Mark Rutte
planned: 25-01-2022 | 19.00

Section I
Holland has expanded the indoor mask mandate for many crowded spaces indoor and outdoor. Face coverings must be worn on all public transport, trains and tubes, too.
Rollout of Covid-19 (booster) vaccination jabs. And step by step we are getting back to a 'new' normal. Let's hope it's irreversible.

Flights to Holland, visitors from abroad must have a negative Covid-19 departure test, and be free of infection before entering the Netherlands. Self-quarantine for 10 days on arrival.
Travelling abroad remains a risk. With new variants and other mutations looming, infection rates are rising in the Netherlands. However, your wedding abroad in Holland is permitted. The colour codes of travel advisories can change quickly. Don't be at risk of catching the virus. Read more >>
The Dutch RIVM –

National

Institute

for

Health

and

Environment

permits intimate small weddings at Covid-secure venues, QR-code restaurants and corona-pas bars with fixed seating plan.
The 1.5 meters social distancing measures are obligatory. Pubs, restaurants, bars, drinking, eating establishments and wedding venues are open until 20.00hrs.  Non-essential shops are open until 20.00 hours. Supermarkets and essential shops are open until 20.00 hours.

Entertainment and live performances indoors and outdoors are allowed.
1 day music events and festivals without a seating plan are prohibited. Dancing is permitted.
Larger outdoor weddings have returned without legal restrictions on the number of guests attending.
Recorded wedding music is allowed. However, you are advised to choose a venue that adheres to social distance regulations. Check and follow their guidance.
CORONAVIRUS WEDDINGS
Legal rights

Cancelling or postponing a wedding due to Covid-19 is a shame. Unfortunately, it could be a necessity due to a pregnancy, a new job or home. When you postpone marrying the person of your dreams, you are simply moving the entire wedding forward. And this means cutting ties with the supplier, celebrant and wedding venue. What are your legal rights? www.guidesforbrides.co.uk has the answers.
Stay vigilant

It pays to stay well-informed about high-impact wedding services. Although, we have buckled down and bookings are booming for 2022/2023/2024. And legal limits on mixing with larger groups has been removed. Of course, this is brilliant news. However, you may be expected to pay a premium for your location. So, remain vigilant, OK?
Don't panic

What is coronavirus (COVID-19 – orignated from Wuhan China)? It's swayed brides and grooms to celebrate an exciting milestone. But, according to www.who.int it's a large family of viruses. For instance, the common cold to more severe diseases such as (MERS-CoV) and (SARS-CoV) has been associated with it. Immunization is needed!
Vaccine or not!

The cold harsh reality is,  Covid-19 is like an uninvited wedding guest that loves a crowd of people. WHO continues to constantly review the evidence and will update its guidance as it finds out more. For the latest updates about vicious COVID-19 variants, read 'the effects of virus variants on COVID-19 vaccines'. www.who.int
Protect your life

To vaccinate or not to vaccinate. So, what is vaccine hesitancy? And what does vaccine confidence mean? Vaccine hesitancy refers to delay in acceptance or refusal of vaccines.  Vaccine confidence is the trust that patients, their families, and providers have in recommended vaccines. Find out more at RIVM – National Immunisation Program
CORONAVIRUS WEDDINGS – II

So, newly engaged (couples) have abandon, cancelled, postponed, or rescheduled their destination wedding. However, you can breathe a sigh of relief. Holland has abolished the 1.5 meter socially-distancing wedding rule, yet require you to have a corona vaccination check (via QR-code corona app) before entering the premises.
Boost your confidence 2022/2023/2024!

Take advantage of this time. As you're probably aware, there is a massive backlog of weddings. These have built up in Holland, due to Covid-19 continued wedding restrictions. My advice is take advantage of this time – rebook for 2022/2023 or 2024. Hurry while the best locations are still available!
Keep active

In addition, social interaction and self-isolation may have affected your mental, physical health and wellness. So, don't let it beat you down. Self-care tips are out there for you. It's an essential part of your life. More importantly, take the  opportunity to get out of the wedding planning mode for a while and rest.
Be flexible

Do you feel bored, lonely and uncertain about your future wedding timeline, arrangements and schedule? Well, it's a digital age connecting you [on & offline] with the ones you love. Let's be real, from your ceremony, reception to party it's a risk factor. It might make you nervous. So, readdress your budget and upcoming checklist. Keep yourself entertained with Tom's alternative wedding planning template.
CORONAVIRUS WEDDINGS – III
Explore wedding terms & conditions

Your venue, celebrant and caterer has bookings for popular dates every wedding season. Although some suppliers and vendors wedding terms and conditions are fair. Perhaps some are unable to fulfill their service. It is quite within their rights to charge a supplement for an expensive "peak" date. Remember postponement without penalties might not be possible. So, be flexible with an alternative date and compromise.
Get wedding cancellation insurance
Have you cancelled but paid in full – inclusive the deposit? As stated in some policy wording, 'Insurance companies will pay up to the amount shown for any irrecoverable expenses incurred by Covid-19: attire, flowers,  caterers, transport services, and accommodation. So, you might want to consider checking your coverage of unavoidable cancellation or curtailment of the Wedding or Reception now!
Be patient about wedding aspirations

So, are you coped up at home starring at bridal gown in your closet? Be patient and think about planning a multiple celebration. With a continued spike in "One Couple, Two Weddings: Multiple Celebrations". You have the freedom of choice to celebrate your love numerous times.
Get savvy –  travelling to Holland

Sadly, the traffic light rules apply, to wedding destination travel. Dutch borders remain open, however, "Tourists and foreign travellers from countries where the health risks are similar to or lower than in Holland can enter the Netherlands." So,  check these 7 points before you travel and self-quarantine for 10 days on arrival.
Be cautious – stay alert | weekly Dutch RIVM news

Although in the UK, there's a risk assessment for weddings, Holland hasn't implemented one. So, check weekly Dutch RIVM news. Existing with covid-19 has a long time effect on wedding travel plans. An immunisation program has begun and larger weddings can take place.

Book a double celebration
Sequel weddings are the way forward, after the devastating impact of Covid-19 on weddings. But what is a sequel wedding? Well, it's a double celebration, you have close family at the marriage registration to witness your official paperwork. Thereafter, you choose a small intimate occasion or larger celebrant-led celebration.
CORONAVIRUS WEDDINGS – IV
Exercise social- distancing
Most governments have implemented a safety measure to stop the transmission and spike of COVID-19. Social distancing is in our daily mindset. Mandatory mask wearing on  public transport and remotely working from home is the norm. Standing or sitting 1.5 – 2 meters apart is commonplace. publichealthmatters.blog.gov.uk
Be optimistic
Do you still plan to go ahead and make a public declaration of love to your partner in front of family and friends? Well, you can have a coronaproof wedding. Perhaps it's wise for your guest to wear a mask throughout the ceremony. Either way, these options sound less personable. So, opt for a virtual celebration for two, with witnesses and the officiant. Online weddings and masked marriages can save your relationship.
CORONAVIRUS WEDDINGS – V
Seek guidance about wedding

Many celebrants miss weddings and can't wait to start performing ceremonies again. So, seek guidance about amended the date. Another thing, during this global pandemic there are less physically and face-to-face meetings with you the couple. However, we have embraced online wedding blessings and other forms of video-chat.
Keep guests in the loop

Additionally, restrictions on travel are still in force. Do you need to cancel your trip? Keep your wedding guests in the loop via 'old school' methods emails, texts, and phone calls. Together with that read your travel insurance policy thoroughly. So, find out about your destination wedding plans. www.travelguard.com
CORONAVIRUS WEDDINGS – VI
Cross check wedding website

Have you created a website to announce your wedding? With all the free time on your hands, make sure you keep it updated and mass-share it live with family and friends. Cross check and double cross check. In fact, give advice or guidance about travel, health and other safety measures of your upcoming nuptials..www.standard.co.uk
Think out of the box – elope or cut guest list

And there's more..Coronavirus and weddings: do they go hand in hand? Well, play safe and start rethinking about an impromptu wedding. It's a unique elopement ceremony [minimony] for two. Otherwise, cut your Covid-19 wedding guest list. So, celebrate your love first and splurge out on a bigger celebration later with family and friends.
Coronavirus weddings stress

Keep calm

The coronavirus has created hundreds of wedding cancellations and with that comes stress. In fact it has shaped our modern life and become a major part of future wedding plans. Read this article to learn how to protect your mental health while planning your future nuptials.
Have faith – practical guide for couples
Its a difficult and testing time, right? Well, the Coronavirus has impacted all future marriage celebrations. On top of that, it has affected the natural human touch of personalised weddings because of the social-distancing regulations, too. But, don't let me burst your bubble get some relief and practical tips at Unconventionalwedding.co.uk.
CORONAVIRUS WEDDINGS – ADDITIONAL RIVM MEASURES
Dutch government new opening plan – roadmap measures:
 Weddings & parties with unlimited guests and group sizes of up to 100 persons is allowed. However, wedding attendees must adhere to 1.5 social distancing rule. Wearing a face mask and a fixed seating plan is mandated. Source: www.rijksoverheid.nl
All subject to change!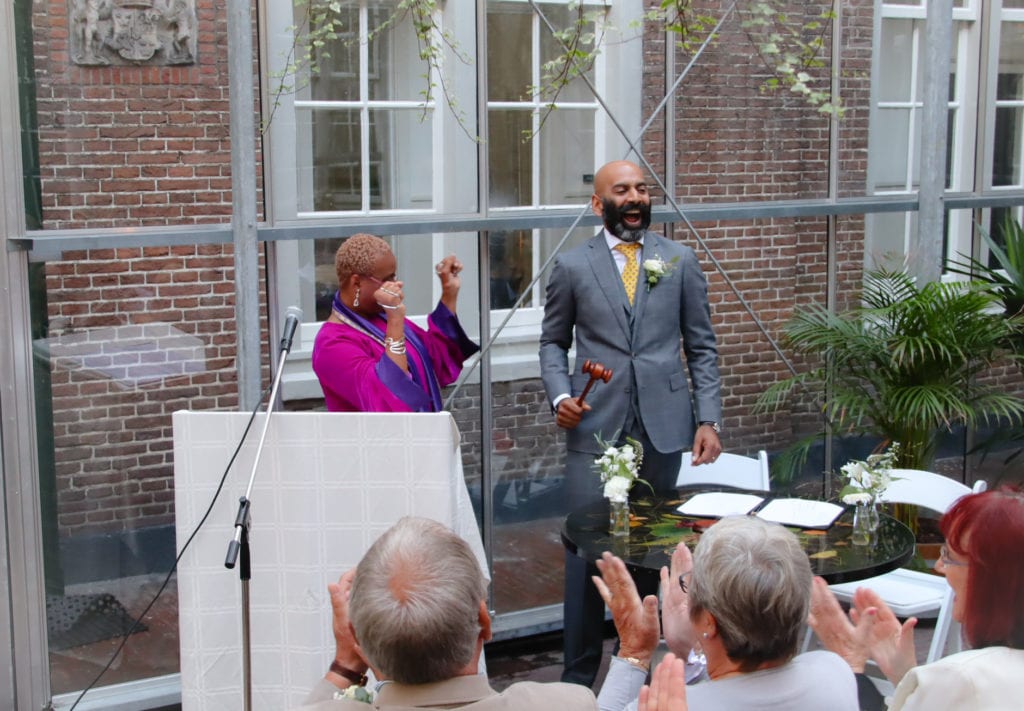 Was this useful? Are you like me still feeling anxious? Let's face it, we have to live with Covid-19. So, let's keep an eye on it. Feel free to pop back for an even bigger picture. And don't forget, greet with ease, wash your hands, stay safe, save lives and  be strong!
While you're here…
Leave your thoughts, questions or comments below.