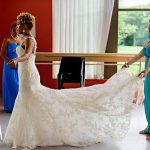 Chief bridesmaid wedding planning ideas can make or break your wedding. Basically, organising your celebrations is overwhelming, costs energy and you can't do it alone. So, how do you ensure she gets it right and catches the bouquet on your special day?
Let's face it, arranging your nuptials is stressful, lonely and time-consuming. And feeling worried about the big event will affect your wedding plans. Therefore, chief bridesmaid wedding planning ideas ensure your day goes off without a hitch. Your close friends listening ear and worldly advice give you and her opportunity to bond. Most importantly, you'll have an extra pair of hands to hold your wedding dress train.
Now let's take a closer look at your girlfriends' responsibilities and duties. And the enjoyable parts of planning your wedding with you. Use it to help define her role and start marking the countdown to your big day. So, dive in to get your best mate into ship-shape and ready for action to catch the wedding bouquet. Here we go…
Chief bridesmaid wedding planning guide
Task 1. Hen night
Firstly, you can ask your chief bridesmaid to organise a hen night or girls weekend away. Get her to arrange somewhere unique where you and your friends can spend some quality time together. Not only that with her help, you can focus on the other important wedding stuff. However, you might prefer them to just walk down the aisle with you. Whatever the case, she will not fall a sleep.
Task 2. Wedding dress & shoes shopping  
Now here comes the nice part of the chief bridesmaid wedding planning idea. You and her can have some retail therapy. Go shopping for your wedding dress and shoes. And work together to coordinate the bridesmaids outfits, too. On the actual day ask them to assist with your dress, hair, make-up and changing your garment/shoes during the photo shoot.
Task 3. Create a special bridal posy, bouquet and flower displays
For a fun, successful wedding or party, go wild with the choice of flowers. Above all, it should reflect your theme and personality. So, make a day of it with your chief bridesmaid. And get searching for beautiful buttonhole, posie arrangements and corsage flowers, too. Another thing, she can take care of the bouquet while you stand at the aisle.
Task 4.  Wedding ceremony supervisor
Additionally, the best chief bridesmaid wedding planning idea is to help you during the ceremony. She can hold the train of your wedding dress up off the ground. Prior to that she could show your family and friends to their seats and can keep the rings. At the end of the service she escorts everyone out of the church.
Task 5.  Celebrate your squad with personalised presents and gifts
Basically before and during your wedding she is your supervisor and co-coordinator. On the day she can be in charge of accepting the wedding presents on your behalf. A unique way to say thanks to her is to buy her a special gift. And don't forget to celebrate your squad (bridesmaids) with gift bags. This gesture leaves wonderful memories with everyone.
Task 6 . Mingle and jingle with your family and friends
At the party venue the chief bridesmaid transforms into your master of ceremonies. Allow her to host the event, welcome, greet your guests and take the wedding presents. What's more she'll announce your arrival and keep an eye on things. This gives you the freedom to mingle and jingle with your family and other friends. And remember, if your girlfriends say NO to the role hire a wedding planner! 
Photo courtesy of Ryan G Smith