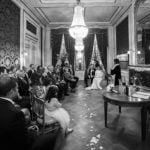 With the increase of personal ceremonies couples like you have succumb to planning something uniquely yours. Although this is true, the complexity of creating the perfect celebrations can be stressful and overwhelming. So, who is the best specialist to lend a hand and lead your ceremony?
Whether you want to celebrate your wedding, anniversary, naming ceremony or birthday the special event should go off without a hitch. But did you know a celebrant and officiant are both trained to do the job? Both specialists can take the pressure off and help you ease the planning process.
Here's the deal… they are more affordable than a civil registrar. And can officiate a unique and personal ceremony. What's more, the ceremony takes place when, where and how you like it.
But, what's the catch, I hear you ask? Basically, you must obtain your legal paperwork [if you desire] and hold a small civil marriage ceremony at a register office. Yes, it is extra work! However, you can host a second symbolic and more personalised wedding ceremony.
Personal ceremonies = Celebrant | Officiant |Registrar?
Wedding specialists rule
Choosing a wedding specialist such as a celebrant or officiant over a registrar led ceremony can save you plenty of cash. Did you know that a civil marriage in Amsterdam on the weekend can cost as much as 1000 euro's?
Celebrant | officiant rates
Primarily, the celebrant | officiant rates are far less and transform your special wedding into a memorable and meaningful day. Even more exciting, once you've got the legal side sorted out you are in full control of your big moment.
Wedding day tip
Be upfront with the celebrant | officiant about your wedding wishes and budget. Moreover, this saves a lot of time, money and energy. So, give them the below information, to guarantee the smooth running of your unique day…
Both your full names
The date of the wedding
Unauthorized wedding venue details
The time of the ceremony
The amount of guests expected
And whether you desire a short or lengthy ceremony
Pricing, Terms and Conditions
DUTCH CELEBRANTS' FEES
There are no national prices as each celebrant or officiant led ceremony is different. As a general guide, average wedding fees are €760, and vow renewal and naming ceremony fees are €250 inclusive taxes. However, fees do vary depending on what kind of ceremony you are having and where you are in the world.
Pricing is based on the date, time, location, duration of ceremony and amount of wedding guests.
2 face-to-face meetings [or virtual discussions via Skype]
Contacting friends & family for written contributions to the wedding ceremony [optional]
Writing, preparing and performing the speech [help with your vows – optional]
Schedule of wedding ceremony order of events
The symbolic marriage certificate with luxury folder
Live wedding music [optional]
Important notice – wedding admin
Prior to contacting a celebrant or officiant, don't forget to declare your intention to marry to the municipal authorities. Register a legal union and sort out the admin side of  your wedding. Thereafter, obtain a legally valid marriage license to gain legal status. This occurs during a basic civil ceremony at the local town hall.
Afterwards, contact a celebrant or officiant who can act as your wedding specialist for the day  at an unlicensed or authorised wedding venue.
Good luck with all your wedding preparations!
Over to you….
Please leave your thoughts in the comment box below. And like and share my Facebook page!