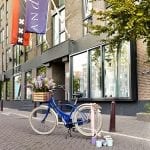 Celebrity wedding venues in Amsterdam give you the opportunity to freely circulate and talk with your guests within an exclusive setting. The decadently private, luxurious and exquisite locations host first-class wedding celebrations. But, do you want a celebrity style wedding?
Let's face it, not every bride is lucky enough to plan such an extravagant event. Marrying at an exclusive wedding venue transforms a special day into an unforgettable one. Imagine the astonishment and interest of your selected guests when you tell them you're celebrating your wedding at a royal penthouse hotel. Everyone will be impressed and want to share in your happiness with you.
So, before you buy your Kim Kardashian wedding dress and flawless 18-carat diamond ring, you'll need to book one of these beautiful celebrity wedding venues. Basically, get ready to create a spectacular wedding of a lifetime in the heart of Amsterdam. Here we go…
Celebrity Wedding Venues
image Tom Roeleveld
De L'Europe
Firstly "De L'Europe Amsterdam, also referred to as The Grand Dame is amongst Amsterdam's legendary 5 star luxury hotels. One of many celebrity wedding venues, it provides you with a superior wedding service. The hotel is a member of the Leading hotels of the World. And overlooking the beautiful Amstel River in the heart of Amsterdam it offers convenient access to the exciting city. Several of the world's heralded museums and Amsterdam's key points of interest can be found within its vicinity." Source: De L'Europe
Waldorf Astoria
Secondly, the Waldorf Astoria is an exceptional celebrity wedding venue and retreat in the heart of a storied and remarkable destination. And the building is a collection of six 17th century canal palaces on the Herengracht in Amsterdam. Discover Dutch heritage at its finest. Moreover, the Waldorf Astoria Amsterdam combines legendary service and timeless elegance for an unforgettable wedding experience. Basically, it's the talk of the town.  Source: Waldorf Astoria Hotel.
image Andaz Amsterdam Prinsengracht Hotel
Andaz Amsterdam
Thirdly, situated on the charming city's iconic canals the Andaz Amsterdam Prinsengracht is breathtaking. And the whimsical design by Dutch designer Marcel Wanders is a superb place for your intimate or grand celebrations. Actually, the hotel provides you with a private entrance via Keizersgracht. Along with a secret Alice in Wonderland inspired garden it's the perfect spot for wedding photos. And after your ceremony you can enjoy an award-winning cocktail in the bar with your guests. Lastly, complete your dream day with a special dish created by the executive Chef Sander Bierenbroodspot.
image hetgrachtenhuis
Het Grachten Huis
In addition, the prestigious Het Grachten House has welcomed many couples and their guests to celebrate their wedding in style. And throughout Dutch history, the historical museum has boasted entertaining well-known persons. Furthermore, carefully designed the romantic secluded venue on the Amsterdam canals provides an exceptional wedding service. Surrounded by the works of many artists, and artifacts the building overlooks the Herengracht and its garden serves as an ideal backdrop for your stylish wedding.
Luxury Suites Amsterdam
Finally, welcome to Luxury Suites Amsterdam, it's timeless interior and royal penthouse hotel is situated in the beating heart of the city. With a lavish ambiance and nestled at the foot of the red light district, this imperial establishment provides you with everything you need. Although the upmarket hotel has no restaurant, you'll find many fine dining places  in the vicinity. Moreover, the comfortable sovereign suites are excellent for an intimate celebrity styled wedding. Source: Luxury Suites Amsterdam
Over to you…
Please leave your thoughts in the comment box below. And like and share my Facebook page!