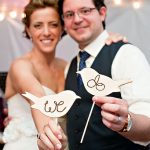 Digital bridal magazines are at your fingertips to keep you on track of the wedding planning. Did you know that this season the forecast for planning costs is predicated to rise higher? Apparently, it's going to be one of the most expensive years on record.
What's more, couples like you are figuring out their priorities. Joining wedding inspiration labs are set to hit an ultimate high. Although, this phenomenal key trend, should not put you off planning your dream wedding. Harpersbazaar states that the average UK wedding couples spend a staggering £17,913 (19.969 euros) on their big day. And believe it or not, that's up 6% from £16,842 on the previous year.
Basically, from May to October bridal publications feature showstopping catwalks and other ideas for you to snap up. Packed-full of photography galleries and directories you'll discover lots of wedding style inspiration. But, what is at the top of your to do checklist? Well, read on for the biggest piece of insight into peak, off-peak months and less preferable wedding dates. Catch up on show highlights now!
Bridal Magazines

https://www.brides.com/story/wedding-season-off-peak-months
Firstly, here is some tantalising information from www.brides.com about soaring bridal costs. "Wedding venues definitely have a peak wedding season and low season. In general, wedding season months begin in late spring and continue through early fall. Moreover the most expensive period to marry is June and September."
https://www.destinationweddings.com
Secondly, Destination Weddings & Honeymoons Abroad (DWHA) is a bi-monthly bridal magazine dedicated to the glamour and romance of marrying and honeymooning abroad. Jam-packed with inspiration, fashion tips and luxury destinations you can't go wrong. They'll help you decide where to go, what to wear and how to ensure that everything turns out perfectly.
http://www.loveourweddingmag.com/
Thirdly, at www.loveourweddingmag.com you can get ideas, advice and use their knowledge towards planning your large-scale wedding. Stuck for bridal fashion inspiration? They have lots of  wedding gown ideas, to help you work around the mind-blowing bridal costs.
http://www.attirebridal.com/
Additionally, Attirebridal.com have a great selection of bridal gowns for your dream wedding celebration. You will find information about traditional, secular wedding ceremonies, party tips and wedding breakfast ideas. So, download special limited editions of their magazines for a wonderful planning experience.
Screenshot courtesy of: www.attirebridal.com
https://www.www.harpersbazaar.com/
Another magazine for chic brides to be is www.harpersbazaar.com. Basically, you will find lots of guidance to direct you to a more exclusive and sophisticated wedding day. Subscribe to the latest issue to your iPad for easy viewing. And keep up to date with mind-blowing bridal costs at the Bazaar bridal section.
https://www.cosmopolitan.com
In addition you can find collections of bridal dresses, overseas wedding venues abroad, and beach reception ideas. And for convenience, you can download the app to your mobile phone. Subscribe to get the latest select tips and ideas. You could win a once in a lifetime prize. Most importantly, invest your precious cash in a unique honeymoon spot.
https://www.the-weddinggallery.com/
Alternatively, the wedding gallery digital magazine has a flagship shop in London. Hailed as the world's first wedding department store, it provides you with premium and luxury wedding brands and services. And the best news is…this physical retail location is the newest destination for engaged couples dreaming of an extraordinary end-to-end wedding experience.
http://www.margotswedding.co.uk/
On top of that, Margot's wedding has fresh concepts, eclectic colour themes, and event venues with personality. Another thing, their advice entices you to create something beautiful for your wedding. Moreover, you'll discover the latest fashion ideas. This is the perfect hub for brides with a passion for cool iconic styles.
https://www.catalystwedco.com/
Catalystwedco.com has yet to win a prestigious wedding award, however it has been inducted into the glossy bridal magazines hall of fame.  And Catalystwedco aspiration is to increase diverse representation in wedding media and to engage in critical dialogue about love, sex, marriage, and weddings.  Bringing race, gender, sexuality, class, bodies, and more into their conversations, your certain to find tips about keeping bridal costs at bay.
http://www.vogue.co.uk
Lastly, mind-blowing bridal costs don't have to be overwhelming.  Explore rich and decadent wedding ideas such as celebrity engagement rings and high street weddings at www.vogue.co.uk. Furthermore, the glamorous digital magazine has totally nailed the whole royal wedding thing. Let them help you keep up to speed with the rising costs of wedding planning.
Over to you…
Please leave your thoughts in the comment box below. And like and share my Facebook page!