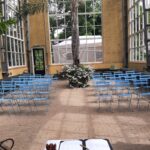 Congratulations! Do you want to marry in a greenhouse or have a glasshouse wedding? Are you looking for botanical garden wedding venues in NL & orangeries in BE to celebrate your big day in an unforgettable way? A wedding is a major milestone in every couples life. Whether you're celebrating with a symbolic wedding, official wedding or commitment ceremony you don't want to let this happy moment pass unnoticed! So, where do you start your search for a magical location?
Although, arranging such a wedding party can be a bit overwhelming. In fact, wedding planning takes time, energy and money. On top of that it's stressful, too. I know exactly how you will feel (as a wedding assistant). All the tension builds up, your nerves kick in if you don't have a plan. How do you ease the pressure and make the planning process easier? What should your big day look like at your glasshouse, greenhouse or orangery wedding?
Well, it starts with choosing the perfect location and backdrop. Organizing and arranging your celebration at one of Hollands botanical garden wedding venues can take your special day to the next level. Just remind yourself why you want a dream wedding day in a greenhouse. So, which orangery suits you as a couple? Below you will find a list of the most impressive orangeries and botanical garden wedding venues in the Netherlands and Belgium. Choose wisely!
One of the most glorious botanical garden wedding venues in Belgium is the Koloniënpaleis, Tervuren – Belgie.  Aagje & Robrecht recommend it: 'We hired the Colonial Palace in Tervuren for our wedding. What did it cost? 20,000 euros, including drinks and catering. The magical location was well worth the money. We had an amazing day with family and friends.' Source: www.flair.be/weddingwednesday-aagje-robrecht
Every wedding couple dreaming of a garden wedding can celebrate their love at Orangerie Elswout. Imagine a natural décor and beautifully sculpted landscapes as your wedding backdrop. The venue is awe-inspiring, elegant and timeless. Celebrate your love with family and friends and have an unforgettable wedding experience.
There are so many botanical garden wedding venues in Holland, but none as beautiful as De Kas. This orangery is a very magical location to host your special event. And don't worry if the weather gods aren't working in your favour, you can celebrate your marriage on the terrace. Even more exciting, the staff will be happy to help you organize it the way you like it! Guests will be raving about your wedding for years!
Do you dream about marrying in a stunning vineyard with exclusive use? Domaine d'Heerstaayen is an incredible orangery. Make your big day wish come true at this characteristic location surrounded by a luscious vineyard. Orangery d"Heerstaayen will transform your wedding day into a unique and memorable experience.
How lovely would it be to marry in the most oldest orangery in the world? Who doesn't want to marry at the historic Hortus Bontanicus? Many of my couples plan a dream wedding day here because it links the past, present and future. Hortus Bontanicus listens to your specific wedding wishes and ensures you have an unforgettable wedding day.
Landgoed Stania State, Leeuwarden is an idylicc location to marry your partner. It offers a beautiful place that will exceed the expectations of you and your guests. It's a magnificent wedding venue that adds an extra allure to your special day in Holland. It won't be a boring wedding but personalised to your greenhouse wedding wishes.
Château Bayard is a striking place to swoop your marriage vows and say, YES, I DO!. Surrounded by a beautiful park and a water feature, you will find a historic orangery of the medieval castle from the 18th century. Château Bayard is situated at the gates of Walloon Brabant. Guaranteed to make your day unforgettable!
You can marry in style at Oranjerie Hydepark. From the stately driveway you will discover the orangery with its beautiful and domes. Inside, the luxurious salons furnished with warm materials you'll have a timeless event. Oranjerie Hydepark offer a beautiful view of the fountain in the park pond. A wedding to remember.
Amstel Boathouse is a unique location at the Amstel near Martin Luther King Park. It is an an attractive orangery and offers wedding couples everything they need to make their big day extra special and memorable. At the Amstel Boathouse no two weddings are the same.  Enjoy a day full of excitement indoors or outdoors. It will be a greenhouse wedding to remember forever.
Leave your thoughts about botanical garden wedding venues below.