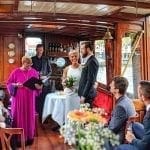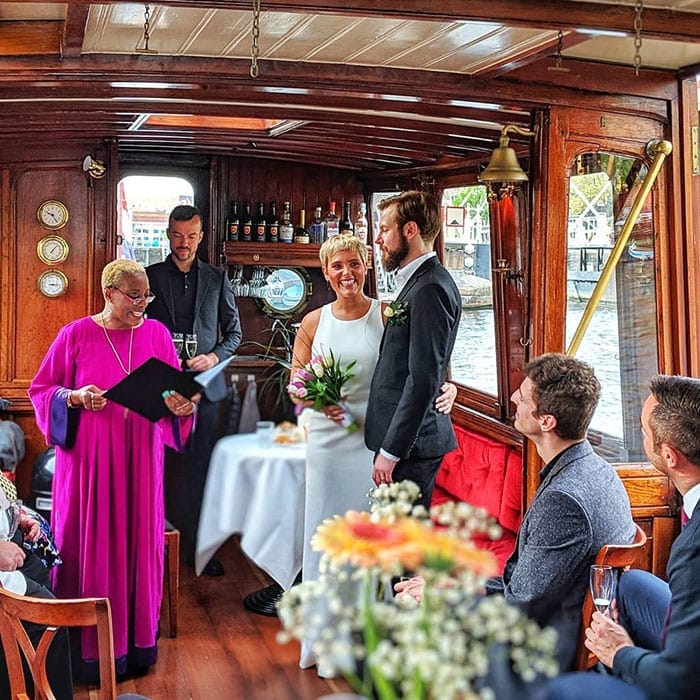 Congratulations your getting married in 2022/2023! Thinking about a bespoke canal boat wedding venues in Amsterdam? With things opening up, weddings on a boat offer you something different. So, you've heard the magic words, "Marry Me". How do you set sail along the winding belt and say "YES, I do"?
Well, as a non-Dutch resident, there's an issue that needs to be tackled before you step onboard. According to the law of the Netherlands, a small legal civil marriage ceremony must take place on dry land, before navigating the canals. And this is done in the country where you live.
So, there's a fair wind you'll be welcomed aboard a Dutch boat this season. Before you hail all hands on deck, pull up the anchor and set course as the skipper,  know your boating options. So, if you feel overwhelmed, pick one of these amazing boat wedding venues in Amsterdam. Get ready to hoist up the mast and cast away! Here we go…
Canal Boat Wedding Venues | Amsterdam
REDERIJ PRINSENGRACHT
Dreams really come true on the quintessential lavish Rederij Prinsengracht. The boat wedding packages are bespoke and tailored to your needs. Picture being transported to the Skinny bridge of Love. Cruising by this bridge, the exquisite bride and groom can exchange wedding rings, speak their vows and seal it all with a kiss.
AMSTERDAM BOAT EXPERIENCE
And there's a whole raft exciting things to do aboard Amsterdam Boat Experience. This company shows you a sensational scenery. The luxury riverboats take you and your wedding party on a relaxing cruise through the canals [grachtengordel]. Allowing you as newlyweds to fully immerse in a timeless Dutch boating experience.
CANAL BOAT WEDDING VENUES – II
ANDAZ PRINSENGRACHT PRIVATE CANAL BOAT
Tell me is this your first time in Amsterdam? Well, with the surge of excitement, you might like to be skippered on a canal belt [grachtengordel] cruise. Andaz Prinsengracht hotel has a direct pick-up spot in front of the main entrance. Via the reception you can hire a boat customised for sightseeing with your guests. Otherwise, choose one that best suits your wedding vision.
 JEROEN KRABBE BOATS
Also widely known on the Amsterdam waterways is this ideal floating location. Jeroen Krabbe boat is certified as an approved wedding venue. And along with other luxury ships and friendly passenger liners your guaranteed a special day indoors or outdoors. Create a memorable wedding experience with a canal tour aboard an open top classic or modern love boat. Jeroen Krabbe Boats. 
 CANAL BOAT WEDDING VENUES & COMPANIES
CLASSIC BOAT TOURS
Stylish boat wedding venues such as classic boat tours have their own nice skippers. So, imagine meandering on one of their unique salon boats. They come in every shape, size and shade. Celebrate your marriage celebration in sheer elegance with family and friends aboard Prix D'Eau, La Reine or Libelle in Amsterdam.
RENTABOATAMSTERDAM. COM
Rent a boat Amsterdam pick up and drop off locations allow you and your guests to be ferried through the canal belt of Amsterdam. Moreover, the stunning backdrops are a buoyant start to a trip of a lifetime. www.rentaboatamsterdam.com/occasions/marriage
CANAL BOAT WEDDING VENUES – III

REDERIJ AEMSTELLAND
Thirdly, push the boat out and rent one of the oldest sailing passenger vessels of the Netherlands. Aboard an environmentally friendly pleasure boat you can "call ship ahoy" from the heart of its hub. For instance, Salon boat Old Queen is spacious and seats up to 50 wedding guests. How does that sound? Get more info at to www.aemstelland.nl.
REDERIJ DE NEDERLANDEN
Rederij De Nederlanden has an enormous fleet of unique historic Dutch barges, elegant and modern city tenders for you to choose from. You'll have a wonderful wedding of a lifetime. In addition, hire a complete dining and immaculate catering service. Transform your nuptials into the happiest day of your life with Rederij de Nederlanden. 
AMSTERDAMBOATCENTER. COM
Amsterdam boat center's Salon Barge Bota Fogo dates from 1890. This beautiful & luxurious sailing boat is perfect for your ceremony, reception and evening party. What's more exciting the ship roof can be opened for you and your guests to enjoy the glorious sunshine [weather permitted]. Otherwise, have it closed for the wedding dinner and the rest of the celebrations. Capacity up to 75 people. www.amsterdamboatcenter.com
STROMMA. NL, AMSTERDAM
Strömma, means 'flow' and allows you to ride the crest of a wave. Dedicated to helping you organize a stress free and pleasurable wedding day, this boat company is at your beckon call. It boasts a long history of excellent service. Not only that, they're  one of Amsterdam's most accommodating venues on the water. Stromma are experts at hosting ceremonies on its extravagant cruise ships and cozy canal boats.  www.stromma.nl 

CANAL BOAT WEDDING VENUES – IV

VOC SHIP AMSTERDAM
How about splashing out on an exclusive wedding theme based on the pirates of the Caribbean?  By boarding the 18th century VOC Ship it adds to the magic of your day. Coupled with that, this replica of the historical sailing vessel (spiegelretourschip) is anchored near to the Scheepvaartmuseum (ship museum). Finally, everyone will feel relaxed aboard this spectacular decorative ship.
CANAL BOAT WEDDING VENUES / VIDEOS

Video courtesy of www.meaboutravel.com
AMSTERDAM CANAL CRUISE
Get the best wedding experience in Amsterdam aboard a luxurious classic boat tour. Imagine cruising thorough the canals and enjoying the beautiful views with your partner, family and friends. Plan your ceremony on board it seats [2 to 27 people]. Make your special day blissful with an unforgettable escapade.
Lastly, all the above boat rental companies have implemented strict Dutch RIVM guidelines to prevent contamination and the spread of Covid-19. And that means they operate under protected conditions. Therefore, please be aware of the following:
The boats are cleaned and disinfected, this includes the toilet, tables and doorknobs.
Limited number of wedding guests allowed onboard [contact the boat you desire for more details].
Guests must adhere to 1.5 metres social distancing.
Reduced personalised service due to Covid-19
Guests must follow boating staffs instructions
Toilet facilities maybe restricted
Source: www.boaty.nl
While you're here…
Be savvy and create your own dream wedding aboard a canal boat! Leave your ideas, questions or comments below.