Same-sex weddings are trending, especially backyard gay weddings and black lesbian weddings in the Netherlands. Melanie & Glenda wanted a unique ceremony. And this cute couple desired to symbolise their love with a personalised commitment wedding. It was a privilige to conduct their black lesbian wedding ceremony in Schagen, North Holland (NL).
Publicly declaring your love in front of family and friends means you want to make a big statement. However, due to circumstances both Melanie's and Glenda's family were unable to be a part of the marriage celebrations. But this didn't stop the black lesbian wedding couple from saying their promises of love to each other during a heartfelt and meaningful gathering surrounded by their community.
So, are you thinking about planning an outdoor marriage ceremony? Perhaps you are looking for inspiration for your own black lesbian wedding in the Netherlands. Whether you desire a wedding in your garden, at your parents home or outdoors at a stately home. You can set the tone and plan a meaningful, intimate ceremony for two with your closets friends. Read Melanie's and Glenda's black lesbian backyard wedding in the Netherlands.
Melanie and Glenda are a lovely couple. They met in Amsterdam and are devoted to one another. The lesbian couple were motivated to host a backyard wedding in Glenda's village, Schagen. Let me explain… Melanie is from New York and Glenda is Ugandan. Albeit, this inseparable team are having a long-distanced relationship. Their relationship of a year has evolved at rapid speed. So, it was only fitting to have a black lesbian wedding in Holland.
This loving same-sex couple wanted a wedding celebration surrounded by their loving community of closest friends. They desired a meaningful and homely feel at their black lesbian wedding ceremony to mirror their cultures, histories, beliefs, respect and faith in one another.
Happy couple: Melanie and Glenda
Venue: Backyard Wedding, Schagen – The Netherlands
Date: 29th July 2022
Melanie and Glenda are in an intentional relationship. Melanie is of Puerto Rican/Jamaican descent and lives in New York. Glenda is from Uganda and resides in Schagen. The same-sex couple had a compelling desire to confirm how happy and stable their relationship of a year has made them.
Venue
Glenda's home was the venue for the black lesbian wedding ceremony. The authentic Dutch setting in a village provided the perfect atmosphere for a backyard marriage celebration.  Melanie created a beautiful wedding backdrop. She designed the space: altar and seating arrangement decorated with golden bunting. It oozed a homely and cozy feel.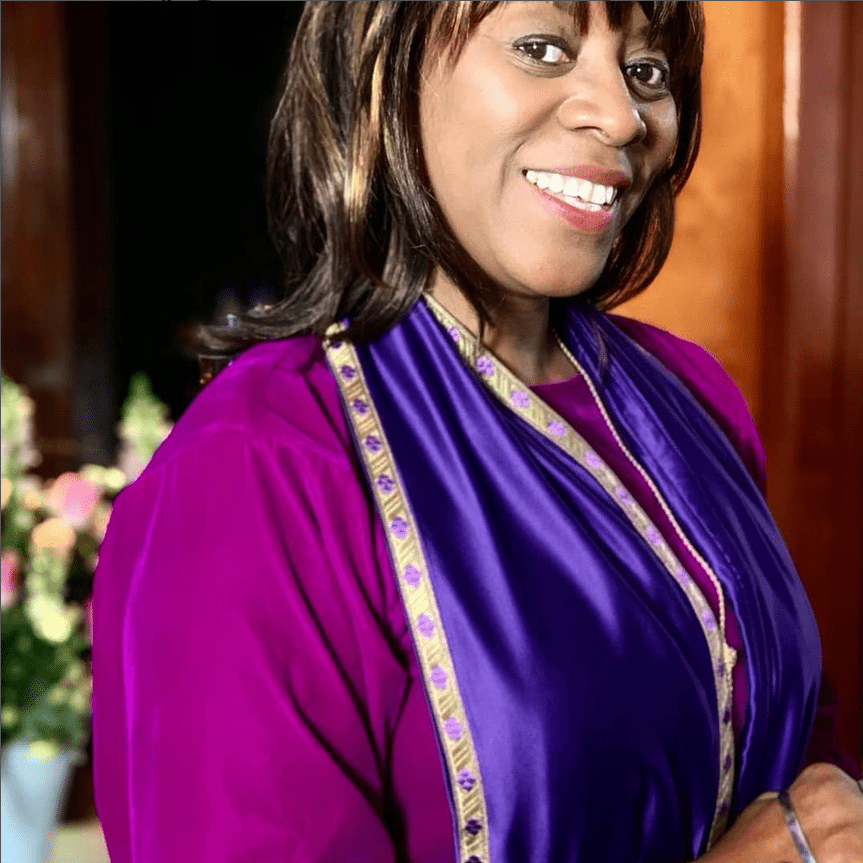 The email read: 
"Dear Clover ! My girlfriend and I are engaged and in love. We want to get married and host our wedding day in Schagen. We would like you to marry us. Are you available? Can you help with orgainsing things? Hear from you soon, Melanie"
Planning the same-sex wedding ceremony

We discussed Melanie's dream black lesbian wedding during an initial meeting via a video-chat of 30 – 60 minutes.  Thereafter,  the second meeting involved us talking about their love story and how they want me to help them set the tone for their wedding day. This made the crafting of the script really easy. We worked together to create a beautiful speech based on their love, couples personality and shared goals.
Lesbian wedding ceremony vows
The wedding ceremony vows took on a whole new dimension. Glenda began to speak from her heart. However, realised she was lost for words, felt embarrassed and uncomfortable. So, asked me, the officiant if she could read her vows, which she had written down. The entire congregation shouted out, 'Yes, of course you can! And Melanie stroked her partners face and reassured Glenda it was okay. 'After she had spoke, Melanie proceeded to read her heartfelt vows & promises.
Melanie and Glenda said their written vows to each other to celebrate a commitment to one another. Amidst joyful tears the couple expressed and proclaimed their love and made promises to support one another forever. Simultaneously they said, "We do." It was the perfect picture of happiness. The couple exchanged  rings and promises of love.
The ceremony was at an end. And to honour their relationship, they sealed their everlasting love for one another by signing a symbolic long-term partnership certificate. The wives didn't needed to be prompted to kiss, but I said it anyway; "You may now kiss the bride."
Ceremonial wedding hammer
I presented the newlyweds witness with a ceremonial hammer. And they confirmed by hitting it on a solid block of wood that the lesbian couple were now officially married, under everyone's watchful eyes. Melanie and Glenda kissed again and everyone cheered and laughed with joy.
Venue – Schagen
Catering – Angel &
Ceremony photographer – Marie &
Black Lesbian Wedding Couples Review
Hi Clover,
Thanks for the great day, it was beyond our wildest dreams, just perfect – we loved it and you delivered! Regards, Melanie & Glenda
Please leave your thoughts in the box below.