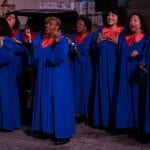 Fancy the black gospel choir Amsterdam for your wedding? Perhaps you've always dreamed of a gospel choir at your ceremony? How much does it cost? Finding the right musical accompaniment for your event is exciting but challenging.
But, don't worry I've got all the answers to your questions for you. So, let me shed some light on the matter. Here's the deal: a soulful performance enriches the celebratory mood at your wedding celebration or party event.
What's more, the warm close harmonies and uplifting gospel, soul music sounds are perfect for your marriage ceremony or even a naming celebration. With an injection of fun and energy, professional choirs take your special occasion to a higher level.
Black Gospel Choir Amsterdam
Therefore, check this out. Take a look below at run-down of the actual costs incurred in hiring a trained black gospel choir for your upcoming event:
Administration costs
Song arrangements
Rehearsal time
Rehearsal space
Performance | set-up time and sound check
Travel time and expenses
Distance & duration
The amount of gospel singers required
Building new music skills
Continued performance training
P.A. System with microphones
Basically, the right small formation to fit your party needs and wedding theme preferences will not break the bank. And hiring a gospel choir totally depends on what is important to you!
Nevertheless, you still want to know what it costs, right? See below the recommended prices for booking an experienced singing group.
Black Gospel Choir Amsterdam and Beyond Holland

image John Valk
Trained black gospel choir Amsterdam

Well, hiring a contemporary gospel choir it perfect for your wedding celebrations or venue event. Experienced choirs come in various shapes, sizes and price ranges. So, this is what you should pay [euros] for semi-professional and trained singers.
BLACK GOSPEL CHOIR AMSTERDAM FEES 2021 until 2023


Please note: This can be inclusive or exclusive PA system—public address system, backing tracks, traditional gospel robes and taxes.

Solo artist
375 – 500 €
Marriage celebrant singer 
850 – 1100 €
4 – 6        choral singers | small choir
1200 €
6 – 8        choral singers | small choir
1650 €
8 – 12       choral singers | medium sized choir
2000 €
14 – 20+ choral singers | large choir
2900 €
The above start prices in euros are an indication.
However, you can opt for a multi-ethnic gospel ensemble to perform in their own fashion forward outfits. Wearing the appropriate clothing; in the same colour as your wedding or party theme brightens up the occasion.
What's more, hire a small choir to add an extra special affect when you leave the wedding venue in a flurry of confetti or bubbles. A gospel & soul choir has bags of personality. It is the finishing touch and wow factor on your special day. Take the stress out of finding the right music now!
TOP TIP:
Roughly speaking many small or large choirs have a promotional price for unique wedding or party events. So, inquire about the gospel & soul choir's celebratory package.
Listen now to a small choir, this collective of Dutch singers [gospelkoor boeken] performs a fun-filled, full of glee and energetic show. Why not, amaze and surprise your family and friends with a gospel act or flash mob, you'll strike a chord with everyone at your wedding or party event. The fact is, a small gospel choir is suitable for young and old. Above all, accommodates all your upcoming party event and wedding wishes.
Send an email to request Gospel Choir Amsterdam
[wpforms id="22219″]
Over to you…
Be savvy and create your own wedding trends! Leave your ideas, questions or comments below.