Planning your Amsterdam hen weekend night out with your girls is the last soirée before you tie the knot. So, a fun energizer session will make the evening ahead even more exciting. But, will your ladies night be memorable?
Well, if you arrange a bachelorette power session which consists of playful rhythm movements & voice sounds, you'll have an amazing evening. Secondly, the best kept secret to starting off a good married life is to celebrate the last days of your single life in style. Having a happy time bonding together with your mates, is the ultimate thing to do. Basically, you'll cope better with your last minute wedding plans.
Even more exciting is, by incorporating a fun power energizer into your Amsterdam hen weekend night out, the connection with you and your girlfriends grows stronger.
Hen do in Amsterdam 
Additionally, a quick burst of endorphin's and feel-good energy before your wedding will help you forget about stressful to-do-lists. You'll feel fresh and empowered to consult with your wedding vendors and suppliers. Furthermore, you'll be ready to tackle any unexpected last assignments.
In essence, a fun power energizer is all you need vitalise yourselves before going out in Amsterdam to party. Transform your short break abroad and discover your beautiful and powerful self. Release your distinctive self. The Amsterdam hen weekend night out fun energizer will bond you and your friends, creating more meaningful relationships. It's also an excellent, enjoyable event to catch up with everyone. Essentially, you'll enjoy your quality time together.
Fun Power Energizer coach 
Don't hesitate. Treat yourself and your girls to an invigorating hen night out with a fun power energizer. Take a look below at how I can facilitate a group session. Or contact me on 06 – 14817242  to discuss your bachelorette party.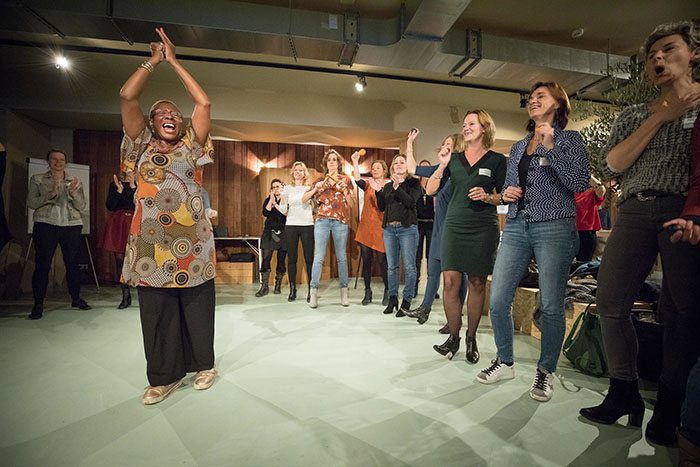 Photo credit: Oscar Vinck
During your fun energizer session I will demonstrate how to vocalise the hidden power of your unique sound. As well, as using Afro – Caribbean beats we will create some easy moves. Experience your own groove. And put emphasis on the tone of your real (sometimes hidden) voice and natural sense of timing.
Amsterdam Hen Weekend Night Out Sessions
Scientific studies show that having fun with your friends enriches your life and improves your well-being. Read what the Amsterdam hen weekend night out session benefits are:
Powerful Fun Energizer
Natural stimulation of Positive Laughter
Improve Your Focus and Attention
Increase Awareness and Enjoy to Be in the Moment
Reduce unhealthy Stress and boost your metabolism
What's more, it's a simple way to engage with one another without added pressure.
Improve Social Connections
Clear your Head for The Big Day
Let your Creativity Flow and let Brilliant Ideas Arise
Learn about your Body Language (vital for wearing your wedding dress)
And revitalised to face any last-minute planning
Basically, there are no complicated techniques, singing or dance steps involved. Go at your own pace with my help. We will use call and response, and your participation. Don't think, turn-off, relax and allow your body plus authentic voice to work together, naturally. Send me an e-mail for more details about your Amsterdam weekend hen night out fun power energizer session.
Over to you…
Please leave your thoughts in the comment box below. And like and share my Facebook page!