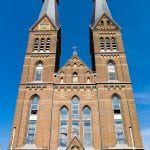 Whether you are a foreigner, expat or a Dutch national, Amsterdam church venues is a beautiful location for your non-denominational ceremony. Offering you a spot to host your secular marriage service on a grand scale, you can plan a love celebration in the heart of the city.
Another thing you don't have to worry about the order of events wording or the language barrier. Most wedding officiants, celebrants and humanists are bilingual [English & Dutch]. But, are you eligible to officially marry in Amsterdam?
Well, the first cardinal rule to abide by is to give notice of marriage. It is civil equivalent to reading of the banns. Therefore, sort out all your legal paperwork in the country where you reside before you plan your alternative celebrations.
So now, take a look at the 5 most wanted Amsterdam church wedding venues. Thereafter contact a local marriage official to talk you through the steps about hosting your secular ceremony in the house of the lord. Read on…
Amsterdam church wedding venues
To start with many of the historic sites are listed buildings from "Stadshertel Amsterdam". As part of the restoration program you can hold your big day in anyone of their architectural gems. Graded on their importance, the church monuments set your non-denominational wedding apart from the rest.
Vondelkerk – Church of the Sacred Heart of Jesus, South Amsterdam
First, Vondel Church dates back to 1872. The gothic landmark stands among stately homes on the edge of the famous Vondelpark. It's a happy marriage of classic charm and contemporary style. Capture your magic moments prior to or after the spiritual ceremony. With its rich history, striking vaulted ceiling and facilities the sought-after venue is the ideal backdrop for your wedding. Vondelkerk – Stadsherstel. 
Schellingwouderkerk Church, Schellingwoude  
Schellingwouderkerk is a distinctive venue. Built in the 14th century, the church rests on a dyke within Schellingwoude in Amsterdam North. Another thing, the restored rural setting is a wonderful romantic hotspot for your nuptials. And an organist can play your signature tune. Additionally, guests can arrive by car or boat to the premises. Moreover, the stunning place oozes pure tranquility for your photo shoot. Lastly, the entire village is your secular wedding location. Source: zalen@stadsherstel.nl
Posthoornkerk
The Posthoornkerk has bundles of historic character. And located on the bustling Haarlemmerstraat, it's a well preserved venue. As one of the most important remaining nineteenth-century churches in Amsterdam, it has great cultural heritage significance. And the neo-Gothic Posthoorn church with its three slender towers is an eye-catcher. So, create a traditional or modern inspired event here. More importantly, as an official wedding venue of the Municipality of Amsterdam you'll have a memorable time.
main image: Alessandro Grussu
Amstelkerk
Additionally, situated on a beautiful square this quirky wooden church on the Amstelveld is ideal for your special celebrations. It is one of the most splendid Amsterdam wedding venues in the city. Furthermore, the 17th century Amstelkerk is an attractive place for joining your two unique families together. And for your string quartet or choir, it has amazing acoustics. Basically, anything is possible in this marvelous space.
De grote kerk van Schermerhorn
Finally, you can enjoy a romantic marriage blessing at the Grote Kerk of Schermerhorn. Oozing authenticity your non-denominational ceremony will be truly unique. With a comfortable and multi-functional surrounding, this is a wonderful start to your new married life. Basically, you can continue the fun celebrations and have your opening dance on site. So, experience the joyful Dutch wedding traditions and become part of history.
photo courtesy of Stadsherstel Amsterdam
Over to you…
Please leave your thoughts in the comment box below. And like and share my Facebook page!